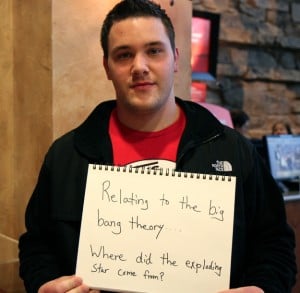 Lots of people are discussing what Ken Ham said in the debate. But I want to highlight what Ken Ham didn't say.
He didn't say some of the things that you most regularly hear from young-earth creationists, such as "If we evolved from monkeys, why are there still monkeys?"
I am pretty sure he knew that if he had said something like that, Nye would have exposed the truth to an audience of his fans, a truth that everyone who has studied biology knows, except for young-earth creationists: evolution doesn't claim that we evolved from monkeys!
I hope that young-earth creationists will notice what Ham didn't say, which claims that they think are clever and decisive are in fact so weak or ludicrous that Ham didn't dare mention them.
As for the point that Ham has borrowed from the Intelligent Design folks, regarding "information," I wonder if the best approach isn't to simply point out that, unless they have some evidence for 
how
the Creator/Designer/God introduced information into biological systems, then that claim is fully compatible with the overwhelming evidence for evolution. It might suggest that God is ultimately responsible for evolution, whether at its beginning or throughout its course or both. It doesn't say anything about 
how
the information was introduced, and so has no bearing on evolution. It is a red herring.