I haven't even managed to start reading Bart Ehrman's most recent book, How Jesus Became God. But others have been doing so, and blogging about it. And so to tide you over until I get to it, here are some posts I am aware of elsewhere: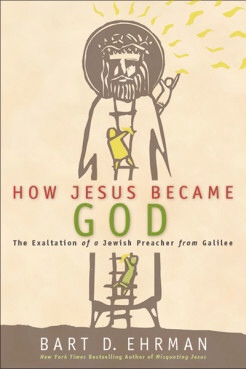 Greg Monette got me excited by pointing out that Ehrman discusses a subject that is of great interest to me, the burial of Jesus. See Bart Ehrman's own blog post about the women at the tomb, and his article explaining why he remains obsessed with Jesus. There is also an NPR interview with Ehrman. See too Doug Chaplin's post on the empty tomb.
Dustin Martyr has a multi-part review: Part 1, Part 2, Part 3, Part 4, Part 5, Part 6, Part 7.
There are excerpts from the response book online, and Mike Bird gathered some of the responses to both Ehrman's book and the one he put together.
Jeremy Bouma blogged about Charles Hill's contribution to the response book.
Dale Tuggy also offered a podcast of an interview with Bart Ehrman, as well as several other posts about the book and/or New Testament Christology:
Ehrman also did an interview with Interfaith Voices:
Jesse Luke Richards shared this Mike Bird video:
Simon Gathercole debated with Bart Ehrman on the radio. Part two is here.
Dan McClellan blogged about Paula Fredriksen's take on early Jewish monotheism, with some guest blogging at Near Emmaus. Dale Tuggy blogged about Kimmel, Bauckham, and monotheism. See also Larry Hurtado's post about his neglected book on that neglected topic in New Testament studies, namely God. There is also an article by Iain Provan about another aspect of monotheism. James Charlesworth's ASOR piece about Jesus and Passover will also be of interest, as will Eric Myers' asking whether Jesus celebrated Passover in Sepphoris.