Despite having received criticism the last time he did so, C. Michael Patton has posted these two images again, which are supposed to compare how Christianity started with how all other religions started: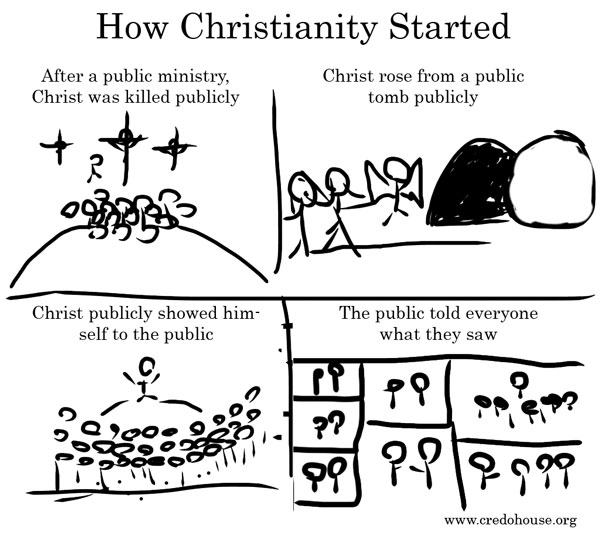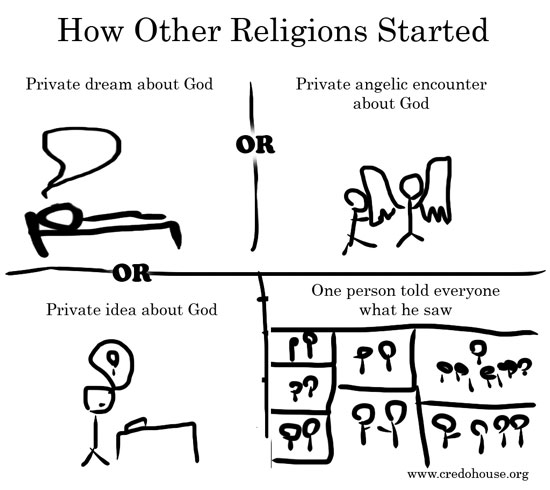 The first image is simply wrong, unless Patton accepts certain extracanonical texts as historically reliable. The Gospel of Peter depicts a scene with Jesus exiting the tomb. The New Testament Gospels depict people finding the tomb empty, not people witnessing the resurrection. John 14:22 explicitly has one of the disciples mention Jesus showing himself to his followers but not the general public. The last thus is invalidated, and would in any case be something that we could not verify historically.
I don't know what to make of the implication of the first panel in the first image. Did all other religious figures die privately? If so, what on earth would the significance of that be?
In the second image, there are things which might well reflect the historical realities behind our earliest Christian sources. People had experiences that they described as "seeing Jesus," but only Paul is not a second-hand source of such information, and even he doesn't elaborate on the details of the experience. It is only in later sources that those are turned into narratives in which there is a tangible element, for instance. And is Patton really going to try to claim that nothing in the New Testament might be traceable back to a "private angelic encounter"?
As Easter approaches, this topic is going to get attention on lots of blogs, in news outlets, in documentaries (whether new or reruns), and lots of other places. I wrote the book The Burial of Jesus: What Does History Have to Do with Faith?
to tackle precisely this issue. It is not that historians can show that Jesus didn't rise from the dead. But historians cannot, under any circumstances, declare it likely. Even if we have no evidence that someone moved the stone to put more executed criminals in the tomb, failed to replace it properly, and the body was dragged off by wild dogs, that will always be more likely than that a human being was raised bodily into the life of the age to come. And so expecting historians to reassure you that the latter is probably what happened is misguided. History could not do that, even if the evidence were stronger than it actually is.
But when we consider what the evidence actually says, with
Mark's abrupt ending
, Paul's talk of visions, and stories of people seeing someone that didn't look like Jesus but whom they nevertheless concluded was him, it is no surprise that, according to the ancient sources,
some doubted
. If you have no doubts, then you have managed to give yourself a 
feeling of certainty
that goes beyond what some of the earliest disciples are purported to have had. That is worth reflecting on long and hard, as is the question of why many Christians feel the need to insist that their faith is fundamentally different (i.e. better) than all the others.
From a progressive Christian perspective, the Christian way – including the question of how it all got started – can be explored, appreciated, embraced, criticized, and lived, without pretending that it is not, like all worldviews and ways of life, something that is fundamentally human in character.