Benjamin Corey has a post about how many conservative Christians justify violence.
He says,
Bottom line: if you think that "love your enemies" is fair game for a thousand loopholes and can't be taken at face value, then you probably shouldn't be drawing hard lines on any other issue in scripture.

Because, if "love your enemies" isn't straightforward, we should probably just throw up our arms and admit that nothing else in the Bible could be, either.
He also included two images to allow for easy comparison between how texts about homosexuality are considered straightforward, and texts about violence (or rather, refraining from violence) are considered in need of careful, nuanced interpretation: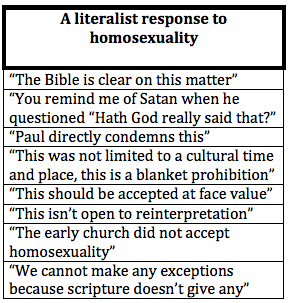 See also Rachel Held Evans' ongoing discussion of the book God and the Gay Christian.