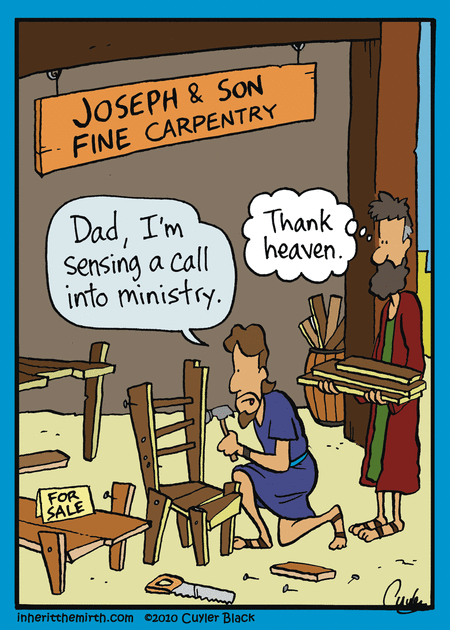 Allan Bevere shared the cartoon above. I imagine that some Christians would balk at the notion that Jesus could have been inept at anything. But to suggest that he was good at everything is to deny that he was a human being.
I was more concerned, when I saw the cartoon, that some might interpret it as saying that a "call to ministry" is what people get when they don't know what else to do with their lives. And some people choose that route. But the cartoon doesn't seem to depict Jesus as recognizing that he is not cut out for carpentry. His father sees it, but hadn't either pushed him in another direction or denigrated him. He let his son find his own way. And, if we then turn to the historical Jesus, I think we can safely say that his life and teaching had an incredible impact – he did have a call to ministry, of a sort that is rare.
If he had continued working as a carpenter, we wouldn't ever have heard of him. But now, his father the carpenter is known the world over too, because of his son who left the family business.