A few people took photos of me at the conference, and so I thought I would share them. I have already shared my papers. I felt that all the sessions I was involved in went well. The discussion of Bart Ehrman's book on Saturday was great. I thought that the mix of people who agreed and disagreed with him, as well as one another, was pretty near perfect. Gabriele Boccacini made the suggestion that there should be more conversations between scholars working in the field of second-temple Judaism and scholars working on early Christian Christology.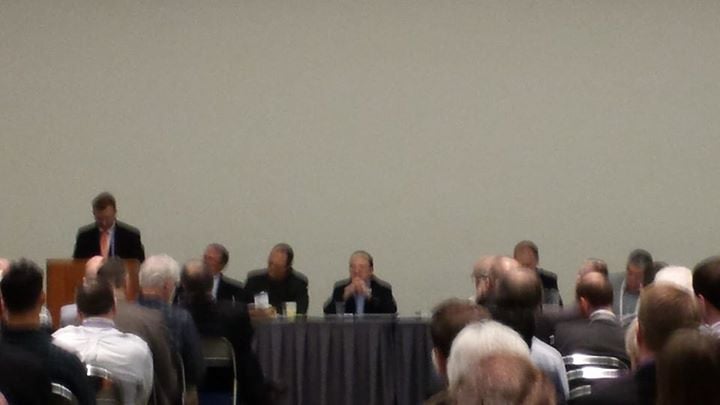 The first session of the new AAR program unit "Traditions of Eastern Late Antiquity" was excellent, I thought, with interesting interaction across focuses on Mandaeism, Manichaeism, Zoroastrianism, Judaism, and Christianity in that time and place, and interesting intersections on topics like magic bowls. One presented indicating that the session provided a natural forum for her scholarship which was not found in any other program unit, which was encouraging, since that was precisely what we hoped for and why we created the new program unit. It wasn't just because "East LA" is a cool nickname for it.
The Metacriticism of Biblical Scholarship session focused on academic freedom, and it was particularly interesting to hear Christopher Rollston share his own experience in greater detail than he had done previously.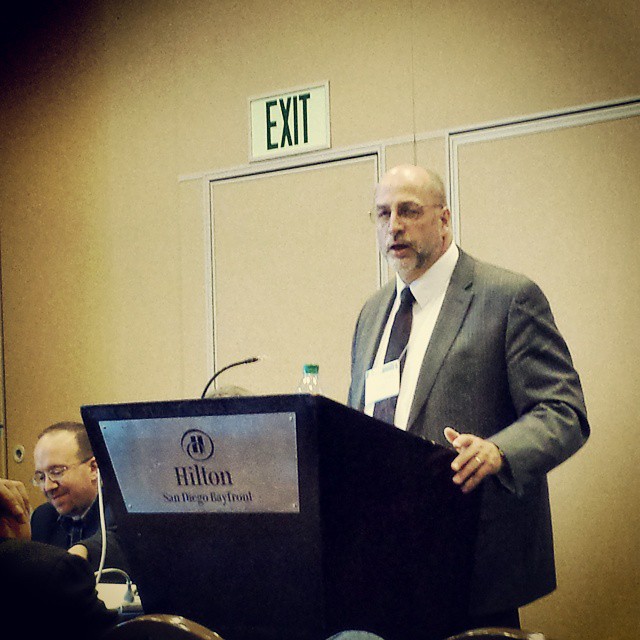 The Blogger session was up against Jimmy Carter speaking, and so in view of that, I was pleased that we had a decent turnout. The papers were interesting, with the very different perspectives of a scholar at a religiously affiliated school interested in using blogging as a bridge between academy and church, and an atheist scholar at a secular state university focusing on the way blogging by scholars intersects with and blurs into blogging by non-scholars and ultimately blogging by "@%!#! Loonies." We then had an open panel discussion, which interacted with the audience as well as one another, on topics like comment moderation, the impact of blogging on the prospect of future employment, the Gospel of Jesus' Wife and the more recent claims that Joseph and Aseneth is a "lost Gospel."
At the end, Ben Corey, fellow Patheos blogger, said hello and took a photo of us: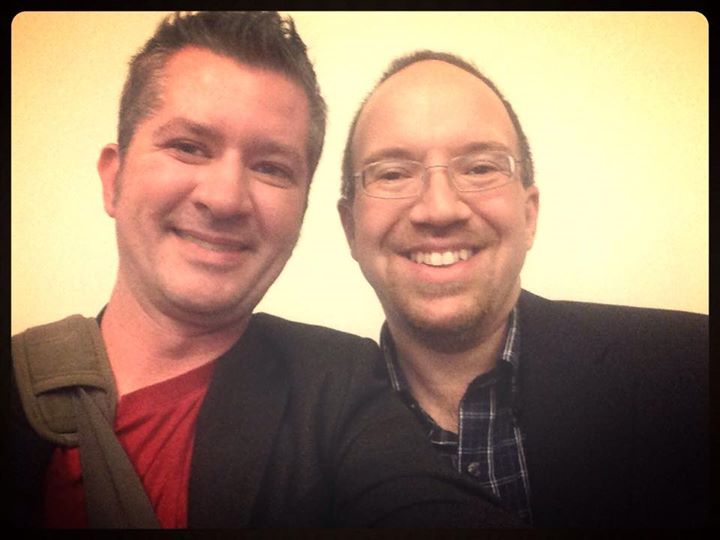 I also enjoyed meeting with a large number of friends and colleagues within and outside the context of the conference and its formal sessions.