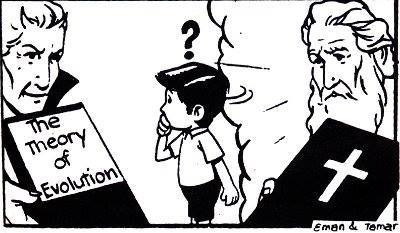 The God of Evolution Facebook page shared the above image. It reflects the tactic to which the anti-science crowd, and other so-called Biblical literalists, have to resort in their attempt to dupe people.
Depending on whether you think the figure on the left is supposed to be Satan, or just a mere human being, the tactic that many conservative Christians use is to depict their viewpoint as "what God says," making whatever one says in disagreement with them at best "mere human reasoning" and at worst "Satanic lies."
But the figure on the right is holding what is supposed to be a Bible. And the biggest fraud that conservative Christians have perpetrated is to pretend that the Bible is not a product of human authors and thus of human reasoning.
And so the next time someone tries this tactic on you, be sure to call them on it. Don't let them frame the conversation in terms of "what God says." Point out that they are relying on ancient humans and their reasoning. You might also want to point out that, in the process, they are treating those human words as though they are divine, which is idolatry. But even if you don't pursue that point, insist that they discuss the issue fairly, and explain to you why you should accept ancient human claims rather than modern ones.