I was proud when I read the statement by Butler University's president Jim Danko about the "Religious Freedom Restoration Act."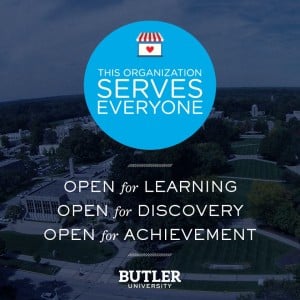 When I then saw that the president of IU Michael McRobbie had alsod issued a statement, I found myself wondering about it in relation to the law.
The statement says, "we will not tolerate discrimination on the basis of any of these same factors. "
Butler is a private institution, with a religious heritage even if not a religious affiliation. As a legal "person" it may have its rules protected under the RFRA, as expressions of religious convictions.
But IU is a state institution, and I could well see an attempt by IU to enforce non-discrimation to lead to a lawsuit from a student. Indeed, that seems to be the very purpose of the RFRA.
The IU statement then goes on to say, "These are not merely words written in a policy and soon forgotten. These are core values by which every member of the Indiana University community is expected to treat his or her fellow colleagues, students and visitors."
I would love to hear from legal experts on this. Can't a student who falls afoul of this policy at IU claim that it is having its religious freedom burdened by the state through IU, and bring a lawsuit which – thanks to the RFRA – might well be successful?
If you haven't seen it yet, please do watch the video of Governor Mike Pence refusing to answer a direct yes or no question when asked by George Stephanopoulos whether discriminating against gays and lesbians should be legal in Indiana. His refusal to simply answer "no" says it all. If you had any doubts about just how sinister the motivation behind this legislation is, this should make things unambiguously clear. If one is opposed to discrimination, and if a law does not make room for justification of discrimination, it is easy to say so.
https://www.youtube.com/watch?v=hjjyuo921RA