I suggested once before that urban violence is our society's Hunger Games. And so it doesn't surprise me that Amandla Stenberg, who played the character Rue in the movie The Hunger Games, tweeted about this topic, and retweeted a tweet that made the comparison explicit.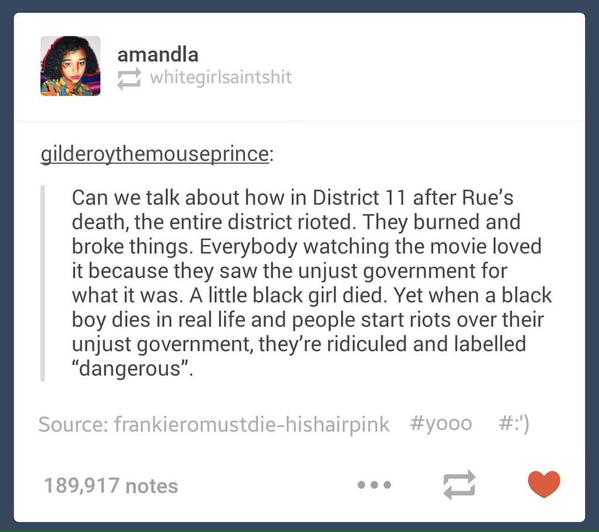 I had students writing about dystopian fiction as social commentary this semester. When students mentioned the Hunger Games series (as many did), they often talked about how unrealistic it is, and how different from the society they live in.
I asked them pointedly whether that perception is because, in essence, they live in the Capitol.
The divisions in the United States are very noticeable (see these six maps that show how racially divided Baltimore is). It isn't literally like the districts in the Hunger Games. But if one reads dystopian fiction looking only for precise correspondents, one will miss the point.
A good point came up in
discussing the meme
that relates the Baltimore riots to the Boston Tea Party. It is one that
I mentioned in discussing the Religious Freedom Restoration Act
. Making an economic impact can be a powerful weapon, as was shown in the era of the civil rights movement in the segregated South. While broadly targeted actions can have an impact, often it is those who are least guilty who bear the brunt of the effect. And so we should talk about how to use economic power in a targeted way to effect societal change.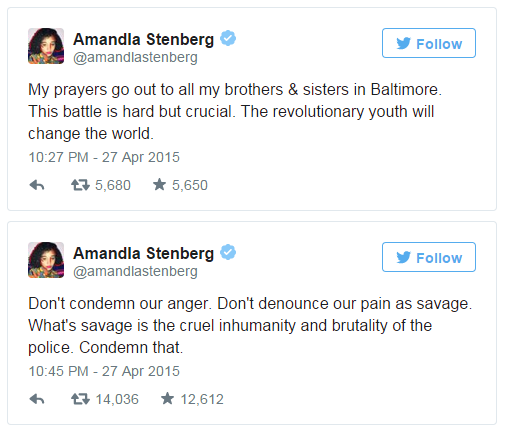 Of related interest, Jon Stewart also recently used the Hunger Games to address the Baltimore riots.