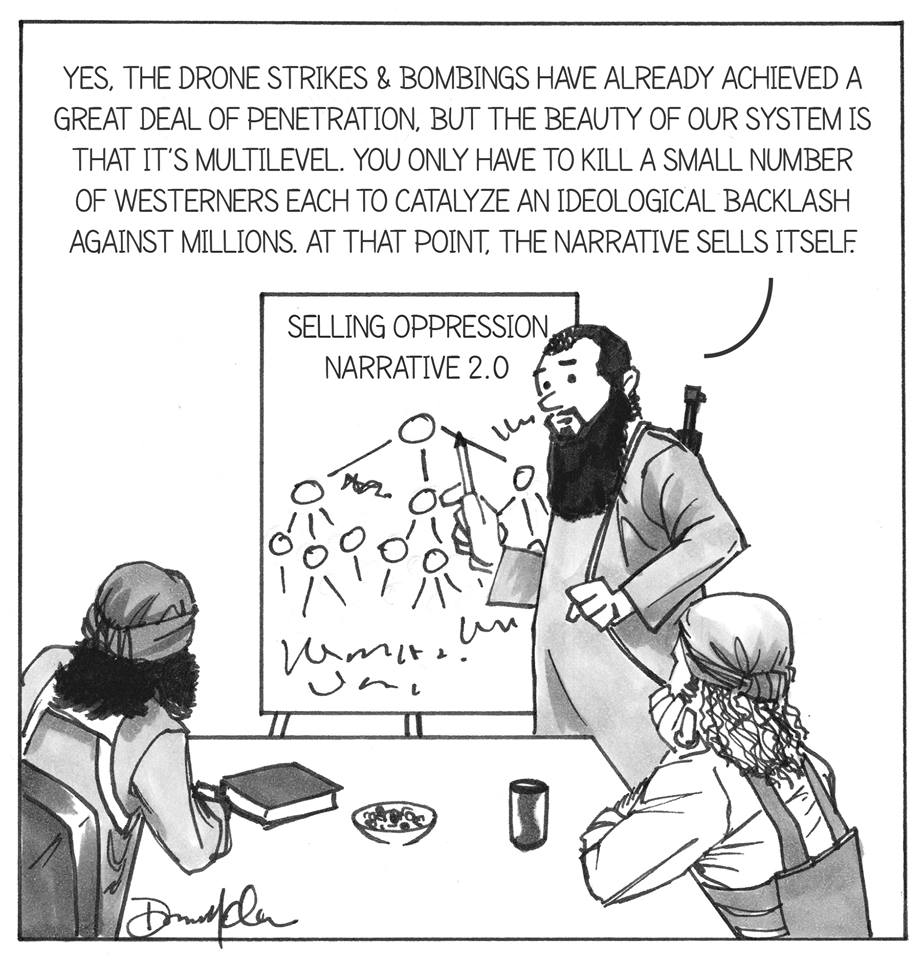 Daniel McClellan made the cartoon above, and I wanted to make sure more people see it. He makes the same points that are made in multiple other places around the web, but less succinctly. For instance, Mark Jurgensmeyer writes:
ISIS has not been doing well these days. On the day before the attacks the strategic town of Sinjar has been retaken by Kurdish and Yazidi forces, cutting off the ISIS supply line between their main town in Syria, Rakka, and Mosul, their largest conquest in Iraq. The amount of territory controlled by ISIS has shrunk considerably in recent months.

They are also not as attractive to young Muslims activists as they used to be. Two of their most famous recruits, notorious around the world for beheading ISIS captives, have themselves been killed by target strikes. The number of young people volunteering to join the ISIS forces have dwindled and scores, perhaps hundreds, have been trying to return home, weary of being used as cannon fodder. ISIS, it appears, is on a downward slide.

But perhaps this is precisely what explains the Paris attacks. ISIS is desperate. It needs a victory, a vivid show of force to bolster the morale of its supporters, attract new volunteers, and with luck, intimidate its foes.

The attacks in Paris may have been calculated to achieve all of these goals. Moreover, if its actions could goad the French and other Western powers into further military action against them, this would fit perfectly into the image of the Western Crusaders waging war against the forces of Islam. No matter that the Islamic forces of ISIS are terrorists and despised by most Muslims around the world, to their supporters and potential volunteers, they are able to project an image of Muslim resiliency if Western forces do in fact become more militarily engaged in Syria and Iraq.
And Giles Fraser writes,
"How do we stop young Muslims becoming radicalised?" is the question we now continually ask. But it's a deeply misleading question because it points us in the wrong direction. Why? Because it contains a hidden assumption that it is radical ideas, specifically Islamic theological ideas, that are the root cause of turning a young lad from West Yorkshire into an Isis suicide bomber in Iraq. According to the radicalisation hypothesis, it's conservative Islam and the dangerous ideas contained in the Qur'an that motivate murderous behaviour.

To me this is about as convincing as arguing that the murderous bits of the Bible were responsible for the brutality of the IRA. For many of the young people who have been persuaded to go off and fight in Syria and Iraq have hardly got past the first chapter of Islam for Dummies. They often know next to nothing about the Qur'an and are about as motivated by reading the few passages they have as the average republican terrorist was motivated by Saul's genocidal destruction of the Amalekites in the first book of Samuel. Yes, the language of violent jihad may borrow its vocabulary from Islamic theology – it's a useful marker of shared identity – but root motivation is as it always is: politics. The IRA weren't Bible-believing Catholics, they were mostly staunch atheists. Catholicism was simply a marker of who counted as "one of us". And the same is true of Islamic terrorism.
The visual depiction below of the number of Muslims worldwide, compared to the number of terrorists, also makes an important point, perhaps even more clearly than the #notinmyname hashtag is able to: