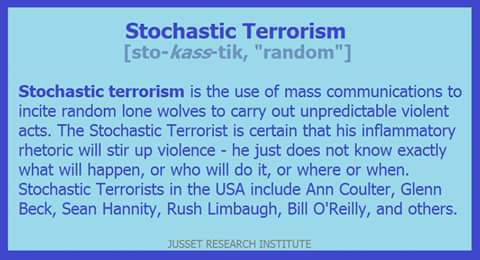 Libby Anne shared some examples of the different framing of events in the media. White survivors of hurricane Katrina were described as having "found bread," while black survivors were described as "looters." And while anyone with dark skin or who is a Muslim will be described as a thug or terrorist, Robert Dear is said by the New York Times to be a "gentle loner."
The language the media uses matters. It doesn't just express our own biases, but passes them on to others. It incites hatred and sometimes leads to acts of terrorism.
It intersected with the above image that came to my attention via Facebook, and which provides terminology to denote this very phenomenon.
Sometimes naming a phenomenon is itself important. "Stochastic terrorism" might not be clear to all, and may not be catchy. But sometimes just knowing that something "is a thing," that there is a phenomenon with a term for it, that it isn't isolated or vague, but clear and noticed, will lead people to pay more attention to something that they previously neglected.
Words matter.
See further Lauren Nelson's post about how radicalization is brought about.