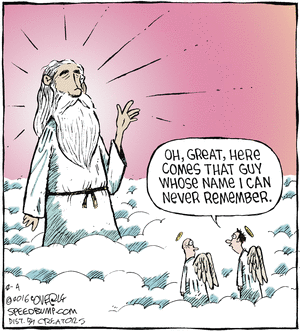 I really liked yesterday's Speed Bump cartoon, which may just be poking fun at the fallibility of human memory, and our penchant to forget names, even when we should remember them.
But I wonder whether it reflects an awareness of the tendency of people in our time to forget that, in the Bible, God was said to have a personal name, probably pronounced Yahweh.
The custom of not pronouncing the name was introduced so as to avoid its misuse (for instance, blurting it out as a swear word when one accidentally hits one's thumb with a hammer).
But the result has been for the name itself to be forgotten, which is rather ironic, if you think about it.
Was any of that Biblical studies stuff in the cartoonist's mind, I wonder?