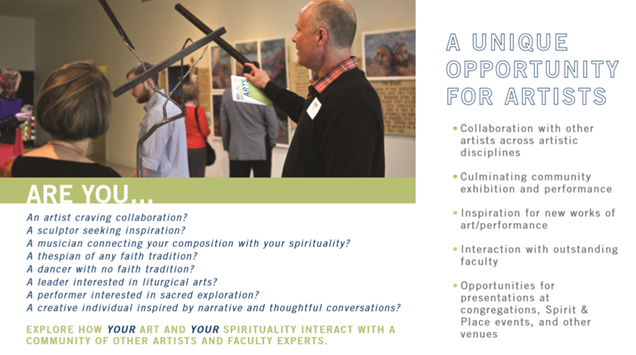 Apply now for Religion, Spirituality & the Arts – Creation
Learn, collaborate, and explore how art and spirituality come together.
The next seminar series will once again explore Creation with an emphasis on Genesis 1 & 2, Adam and Eve.
Applications will be accepted between April 17th and May 31st.
Seminar sessions will take place during the evenings of: 9/28, 10/5, 10/12, 10/19, 11/9, 12/7, 1/11/18, 2/8/18 with a culminating exhibition in late February.
Find more information and application instructions on our webpage: https://www.butler.edu/religion-arts
In the beginning… was there nothing, or did the earth already exist unformed? Was the first creative act a crafting out of the void or an ordering out of chaos? Might the creative process that yields music, painting, poetry and dance be both – the chaotic swirl of thought and feeling and the breathing out of form, or the calling up from emptiness something altogether new and original? The author of the first chapter of Genesis seeks to capture not the science of creation but its majestic wonder.
Discover the art, music, poetry and religious interpretations that give expression to the first 33 verses of the Bible. Consider the following questions: What is creativity? What was the light of the first day of creation and how does it differ from the light of the sun and the moon? What is the place of withdrawal and separation in creation? What is the image of God? Should humans have been created? Is rest a part of creation or the cessation of it?
The RSA seminar is a place for artists to reflect on the text, argue with it, challenge it, build upon it and to create from it.