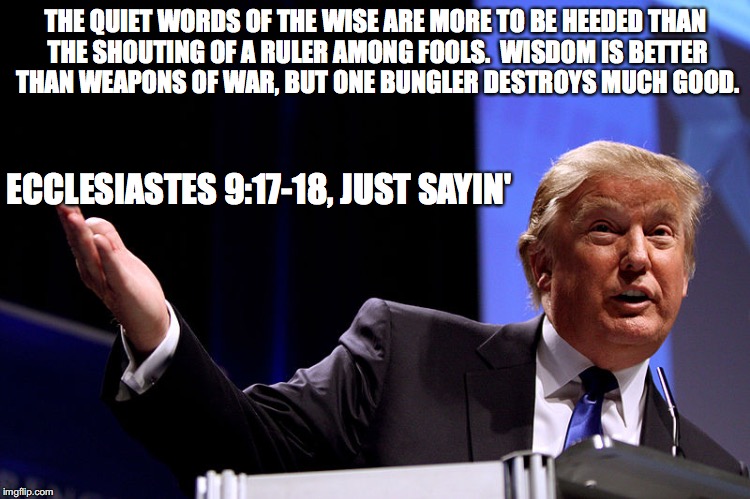 Steve Wiggins shared the above meme featuring a quote from the Bible, an image, and the addition of "Just Sayin'."
What other verses from the Bible deserve similar treatment? Please share the ideas in comments, with or without the images that you created to turn your ideas into memes. If you come up with good ones, I might create them and share them (or share the ones you create).
Steve's post is worth reading, not just for the picture. Here's an excerpt:
My white-shirted friends will surely object. I'm taking verses out of context—prooftexting, it's called. But, my evangelical friends, you say Scripture is the word of God. Fully inspired and inerrant, is it not? How can you dismiss the wise, wonderful, woeful book of Ecclesiastes? The world is a complex place. Those who seek office as public servants should at least be able to distinguish the servant from the master. They lay their hand upon the Bible to take a sacred oath of office. Beneath that withered hand lies the book of Ecclesiastes, forsaken among its more cheerful siblings. Do not forget Ecclesiastes. It is the book that best makes sense of our day.
He is definitely right that Ecclesiastes doesn't get the attention or the respect it deserves. That is understandable – much of what it says is simply at odds with the conventional piety of our time. Denying the afterlife, advising people not to be excessively righteous nor excessively wicked, and calling cherished ideas into question are not what most religious readers expect to find within the Bible.
And yet what does it say about a religious tradition if it can insist on the inspired character of the Bible in its entirety, from cover to cover, and yet has no place for, and has no idea what to do with, one of its components?
The same can be said about Leviticus and a range of other books and passages. And so this illustrates a crucial point to remember when engaging in conversations with so-called biblical inerrantists. Don't let them claim a high ground that they don't in fact occupy. Don't grant that they take the Bible literally, or view it all as inerrant. If Ecclesiastes 9:2-6 is not inerrant in what it says, without having to bend over backwards to try to change its meaning, then one is simply not a biblical inerrantist. At best, one is an inerrantist about those texts which meet with one's approval.
Which of course, means that in practice such people believe in the inerrancy of their own opinions rather than the Bible.
Ecclesiastes really is so very important, and we should be grateful that it is in the Bible…