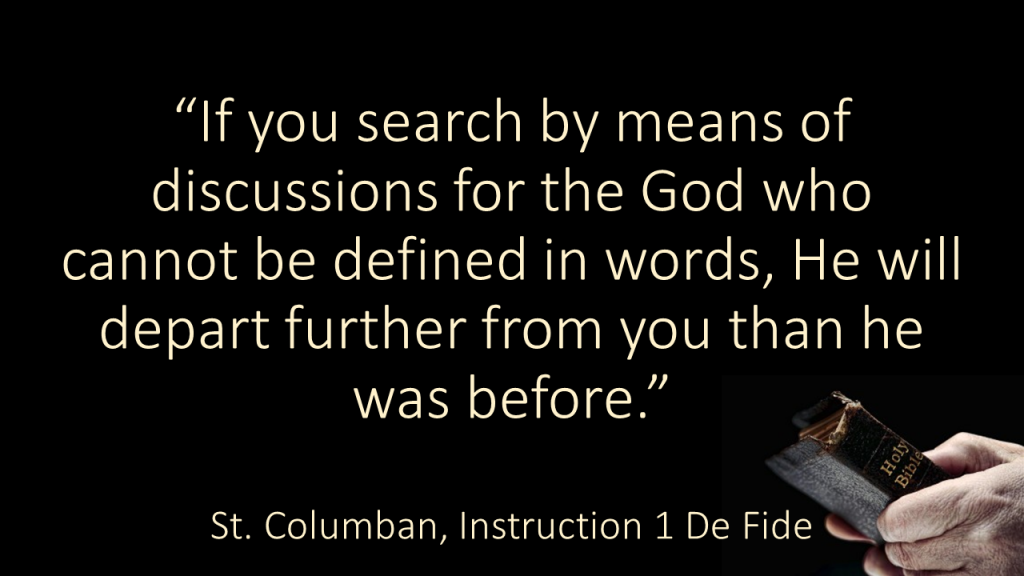 Richard Beck shared this quote from St. Columban, and it immediately struck me as memeworthy.
Since Columban was using words to instruct in the very act of writing this, we are protected from going to an extreme to which the one who wrote these words would not have wished. In their broader context, the emphasis is on how one lives, on humility, as an alternative to disputes about doctrine which often do not merely distract from, but actively undermine, those other emphases.
Think about it. How frequently do you see someone who would say that how one lives is important, and yet engages in arrogant assertions of their own knowledge, and unkind denigration of others, in the process of defending the truth of those beliefs which they think, if one only accepts them, will lead to a transformed life that is humble and kind.
I know many people bristle at language which seems to pose a stark dichotomy between believing and doing. Obviously one's beliefs will and should impact one's life.
But emphasizing belief over practice is the issue, the thing that so often has the effect of leading someone not to live in accordance with their purported beliefs. The belief that we know (especially things that, as the COlumban quote emphasizes, we by definition cannot know) leads us astray. And so too the belief that feeling certain is central to faith, if not the very definition of faith, likewise leads people astray.
Of related interest elsewhere on Patheos, see Darrell Lackey's post about christians being upset over the wrong things. There he writes, "The legalistic, simplistic, and shallow world of fundamentalism (and even many aspects of evangelicalism) breeds some rather odd triggers for what it is we are supposed to get upset about." What follows after that is really important, and so I highly recommend clicking through and reading it.