There are two events that I unfortunately cannot attend at AAR/SBL in Boston, but which I want to highlight nonetheless for the benefit of others who may not have the scheduling conflicts that alas will keep me from them.
First, there is the Wiki, Women, and Bible Workshop and Happy Hour which will take place on Sunday, November 19th at 5:30pm in the John B. Hynes Veterans Memorial Convention Center, Room 200 (Second Level). There is a Facebook event for this (where you should indicate your plan to attend), and it includes this further information about the event, which will make clear why I think this is so very important:
This workshop is a Wikipedia editing session focused on creating Wikipedia entries on female biblical scholars. Though some female biblical scholars are represented on Wikipedia, their entries are generally less numerous and less extensive than those of their male peers. Bring your laptop and join us in learning how to create and edit entries on your favorite female biblical scholars.

Please pass this invitation along to people you know who might be interested.

The workshop is cosponsored by Vandenhoeck & Ruprecht Publishers, the Society of Biblical Literature, the Committee on the Status of Women in the Profession, and the Student Advisory Board.
Second, my friends Anthony Le Donne and Larry Behrendt have written a book together, Sacred Dissonance, and they will be holding a discussion of it on Sunday, November 19th, from 3-4pm at the Westin Copley Place on 10 Huntington Avenue, in the Great Republic Room on the 7th floor.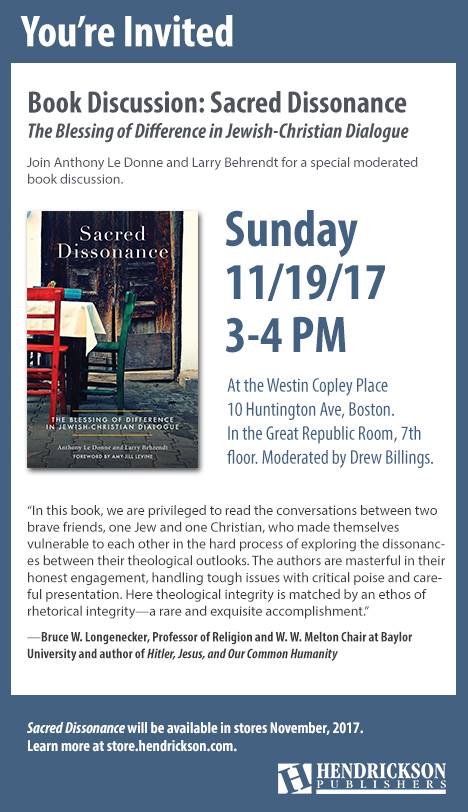 I think you'll agree that these are events that are not to be missed, and it is only with great regret that I myself will have no choice but to do so. The least I can do under the circumstances, therefore, is to spread the word about them. Please attend, and please pass this on to others who may likewise be interested in doing so!