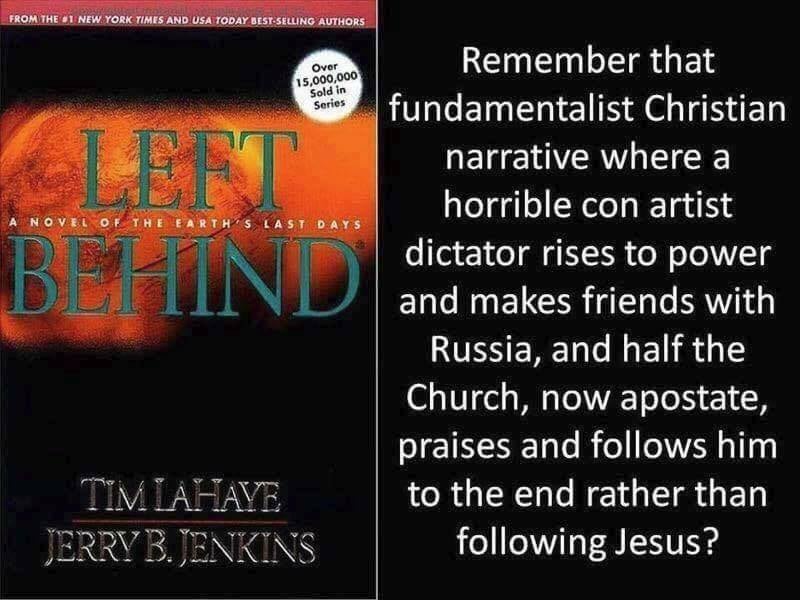 It is one of the most disappointing aspects of conservative Evangelicalism that they are strident and loud about matters like "picking and choosing," the coming of the "antichrist," and the dangers of compromising one's faith for worldly gain. And then significant numbers of them, including in particular their prominent leaders, visibly and unmistakably do all of those things, in a manner that is so blatant that there is only one plausible explanation for why Evangelicals more generally are willing to ignore and turn a blind eye to these things, or condemn them but then support others who are doing the exact same things.
The explanation is that Evangelicalism has become exactly that which it most hates and which it most vociferously condemns and defines itself over against. Evangelicals claim that other Christians are not "real Christians" because for them, Christianity is simply a club, a group, an identity marker, and not something personal and transformative.
If Evangelicals want to regain anything of their lost credibility, they will need to repent of their most obvious sin, which is hypocrisy. Because it is clear to outsiders (many of whom are themselves former Evangelicals) that Evangelicalism has become every bit as much, if not indeed more so, a club, a party, a gang, a group identity whose label does not consistently indicate that the person or church wearing it reflects any particular set of values or has had a particular kind of religious experience. And given that that is Evangelicals' primary emphasis in their condemnation of others, repentance – visible, public, heartfelt repentance followed up by reformed behavior – is the only appropriate response.
Of related interest, there was an interesting exploration of whether horror is the appropriate genre into which to place the Book of Revelation. One can ask the same thing about the Trump presidency. See also Fred Clark's recent post "Blasphemy" in which he clarifies the meaning of terminology that he has been using with increasing frequency:
When I speak of "American white Christianity," I'm not listing demographic attributes, but theological qualities. I do not mean adherents of Christianity who also happen to be American and white. I mean practitioners of a religion characterized by whiteness and American-ness. It is a white theology based on the white Jesus reflected back from a white Bible. There is nothing in such a faith to make any of its adherents less susceptible to the "haze of delusion, denial, pride, and cruelty" Serwer describes as white nationalism.