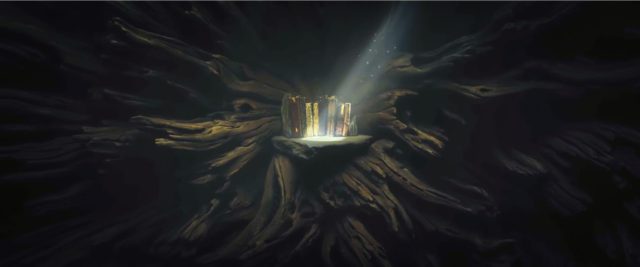 Recently Brandon Hawk shared his thoughts on the Medieval manuscript prototypes for the insides of the Jedi sacred texts we see in "The Last Jedi" – with lots of photos of both! Here is an image of some sample pages from the Jedi scriptures: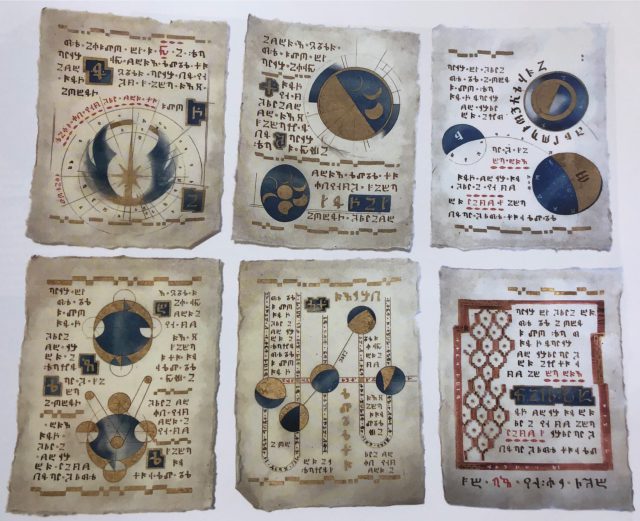 Steve Wiggins wrote about the significance of the appearance of sacred texts – in paper book form – in "The Last Jedi":
We're never shown the inside of any of the books, but if the fact that fans tend to fill in the blanks holds true we may well see future publications of the Jedi Bible. H. P. Lovecraft's Necronomicon, a fictitious tome, now exists because his devotees couldn't live in a world without it. And paper scriptures add an entirely new dynamic to any religion. Most world religions (at least on this planet) have some form of text. Books tell us what to believe and how to live our lives. Given enough time people will realize that they were written by other people and need to be interpreted by people. After all, if God could write the Bible, what would prevent him from writing the Qur'an, or the Book of Mormon? So stuck here in the middle of a trilogy the rules have changed. First paper has appeared in Star Wars. And although it's a little too early to be sure, it looks like Jediism will never be the same.
Also relevant to the way that information is recorded, and the different technologies we see in the Star Wars universe, is the IO9 article about how they made the hologram of Princess Leia look like it was older and more worn out than in "A New Hope."
The half-remembered retelling of "A New Hope" that recently made the rounds is also relevant to this theme we're exploring here. See too the documentary on sound in the Star Wars movies, and the IO9 articles on Rebels, rewriting the past, and canon, as well as how the introduction of time travel might impact such matters.
Almost Archaeology shared a guide to the architecture, artifacts, and other archaeologically-interesting aspects of Rogue One. That whole site is worth exploring since it is all about archaeology and pop culture. Also of interest is a lecture on Star Wars and archaeology that was given last year – does anyone know whether it was recorded?
The news that posters for the movie Solo may have plagiarized from earlier posters is also related to this post's exploration of the intersection of Star Wars, libraries, and academia.
Finally, let me also share this image from a church sign: