Having invented a game called Canon: The Card Game, I'm inevitably going to keep returning to the subject of canon over and over again. But as you'll see below, interesting images, books, articles, videos, and calls for papers keep highlighting the subject and calling me back to it. And in this particular instance, it isn't just canon in general but precisely the intersection of the canons of Star Wars and Christianity that have been prominent.
First, Joel Hingston made and shared this image making comparisons between Star Wars and the Bible: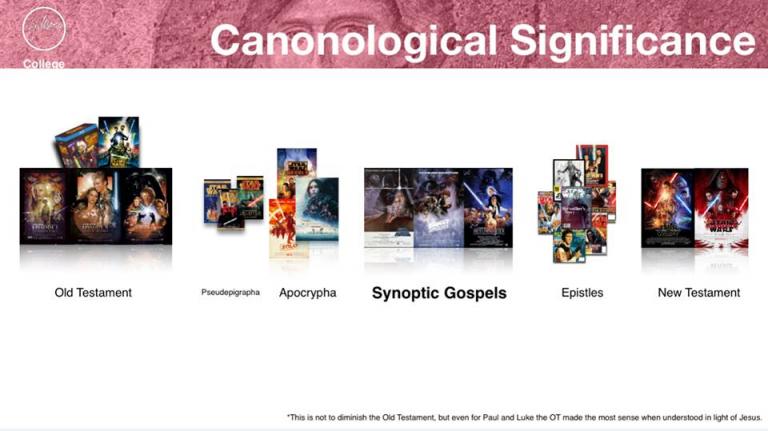 Soon after seeing that, I came across this video about Christian apocrypha and Star Wars:
Then I saw a call for paper specifically about works that are at the fringes of the Star Wars canon – here's an excerpt to whet your appetite:
Star Wars TV: Transmedia Worlds, Franchise Politics, and Televisual Culture seeks essays that offer critical insight into the televisual culture and transmedia politics of the Star Wars franchise as it spread across TV beginning with the Star Wars Holiday Special in 1978 and continuing to the present array of shows in the Disney era. This collection takes as its basic premise that the televisual entrants into the Star Wars transmedia storyworld are both important texts in the history of American and global media culture and also key to understanding how the Star Wars media empire—and, thus, industry-wide transmedia storytelling strategies themselves—developed. Previous work on Star Wars has emphasized the films, fandom, Campbellian myth criticism, and occasional discussions of storyworld expansion in games, comics, and novels, while charting the politics of race, gender, sexuality, and imperialism in individual texts. Star Wars TV expands previous work on the transmedia franchise to consider television studies and sharp cultural and political criticism together in an effort to bring long-ignored texts, like the Holiday Special and the 1980s Droids and Ewoks cartoons, and long-running popular series, like The Clone Wars, to bear on the franchise's complex history, storyworld, and politics.
There was also an interesting post on how young-earth creationists discuss science not at all the way scientists discuss science, but very much the way Star Wars fans discuss how things work in the Star Wars universe.
I also learned about the forthcoming book The Myth Re-awakens: Canon, Conservatism, and Fan Reception of Star Wars.
Also related to this topic:
And finally, don't miss the new addition to the Star Wars canon: the new animated series, Resistance.