Morgan Guyton recently offered a helpful challenge to a widespread conservative Evangelical way of thinking about sin. He writes:
No evangelical will ever admit to being a legalist because it contradicts our theology of justification by faith, but if your only understanding of Christian morality is "The Bible says…" then you have a morality of coloring inside the lines. Even if you think that our faith in Jesus' sacrifice saves us from God's legalistic authoritarian expectations, you still think that God's expectations are fundamentally legalistic and authoritarian (as opposed to being based in something like a benevolent concern for our wholeness, in which case Jesus' atonement would have a different function)…

Jesus doesn't save us from a monstrous God who damns people to hell for coloring outside the lines. Jesus saves us from being monsters who draw normative lines that make life hell for others. The lines that matter are the boundaries required by human dignity. Those who truly know God's mercy have no reason to prove their "biblical holiness" by damning people for coloring outside the lines.
That last part is so memorable, so succinct yet powerful, that I thought that it deserved to be turned into a meme.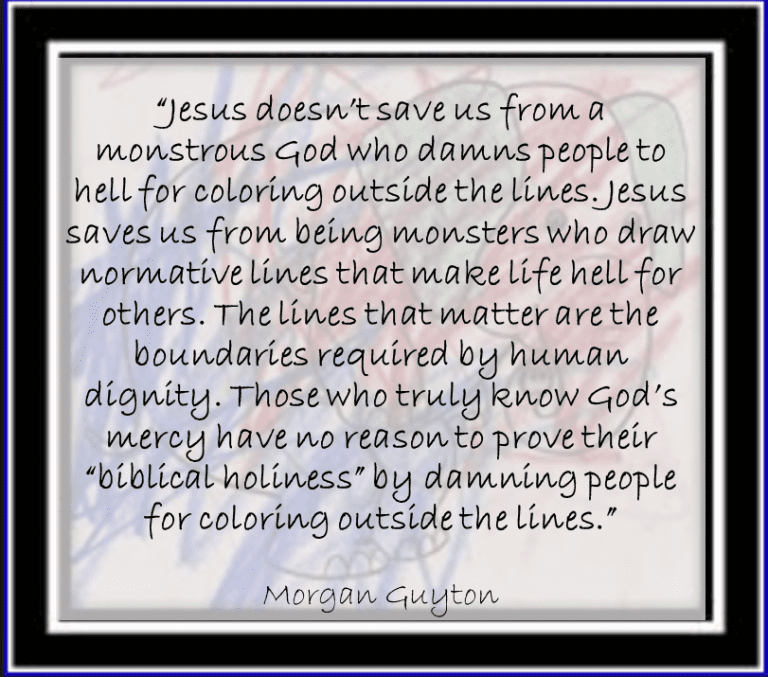 See also Fred Clark's post on why Evangelicals should be disturbed that, when it comes to issues such as refugees, they are not even "just like everyone else" (which would be bad enough in the context of their theology), but actually worse than others. That suggests that their theology, rather than being correct and transformative, is in fact toxic and diabolical in character. And so Fred's words in his post seem apt:
Anti-refugee attitudes are not due to a gap in American Christians' "education" or to some bit of information they've unwittingly overlooked. They're due to a fundamental failure of spiritual formation.

No amount of information or education is going to persuade these anti-refugee folks to follow Christ. They must be born again.