I have been meaning to blog about HumaReC for some time. HumaReC stands for Humanities Research and Continuous Publishing, and represents a Digital Humanities project related specifically to the New Testament, spearheaded by Claire Clivaz, a major figure in this field.
But recently, when Ancient World Online drew attention to Sara Schulthess' Open Access book on the site, about a trilingual manuscript of the New Testament, I knew it was time to rectify things and blog about the site. Schulthess' book takes advantage of the site's virtual manuscript viewer.
There are lots of great things happening in the realm of Digital Humanities. My colleague Megan Grady-Rutledge in our Center for Academic Technology at Butler University introduced me to Voyant, and I immediately started thinking about putting the text of the Bible into it to see what happens. Here is the result of doing so with the King James Version (used because it is readily available online in a format that works for this purpose):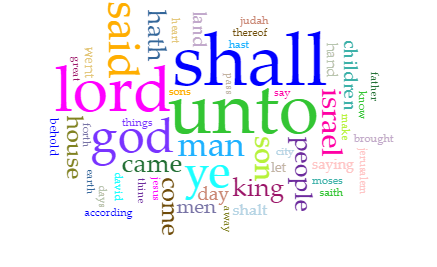 The Early Christian Monasticism in the Digital Age blog shared a lecture by Rebecca Krawiek, "Studying Ancient Egyptian Christianity in a Modern Digital World," a video of which is available online:
There is also a post about other presentations related to the Coptic Scriptorium project. AWOL also drew attention to the Digital Syriac Corpus, which was featured in my recent blog recap of one of the Digital Humanities sessions at SBL in Denver.
I also mentioned recently that I am finally moving towards using Zotero to manage bibliographic references, and the reason I've decided to do so is because it is now possible to scan the bar code on a book using your phone and have it add the book's details to Zotero!
And finally, who else besides me missed the easter egg that my colleague hid in this Center for Academic Technology newsletter about me? Take a look and see if you can find it. If not, I will happily tell you where to look for it!