Here is part 3 of my recap. Let me start with a few news items that relate to the liberal arts and other such matters connected with general education and core curriculum. First, in "Explaining the Value of the Liberal Arts," AAC&U President Lynn Pasquerella (who also spoke at the day workshop in Washington, DC) says:
Our nation's historic mission was one of educating for democracy, and we now have an increasing economic—and therefore, racial—segregation in higher education and in our society that is creating what Thomas Jefferson referred to as an "unnatural aristocracy," where only the richest and most privileged have access to the types of institutions that will allow them to gain economic advancement.
You can listen to the podcast here:
She also wrote another article emphasizing the value of liberal arts degrees from the perspective employers. The president and dean from Rochester Institute of Technology emphasized the importance of being educated in ways that typify those with a liberal arts education irrespective of major.
A talk at Salve Regina emphasized the importance of the liberal arts and their integration with professional education in solving global problems. An article in the Chronicle looked at the role of liberal education in relation to gender equity in Asia, while another asked who decides what is good in the humanities. Other articles elsewhere looked at commitment to liberal arts education as the job market changes, and students beginning serious research in their first year.
Inside Higher Ed explored how higher ed is and is not changing, and Columbia's revisions to its core curriculum.
Now, on with the recap. I was particularly excited when I saw that there was a session with the title "Does Diversity Need to Be a Requirement?" It was a bit late to be asking that from the perspective of my work at Butler University, where we've already approved the addition of a Social Justice and Diversity requirement to our core curriculum, to be activated in the not too distant future. But that we were where we were while others were still wrestling with the question seemed significant in and of itself, while I also wanted to hear what kinds of answers various academics and administrators would give to the question.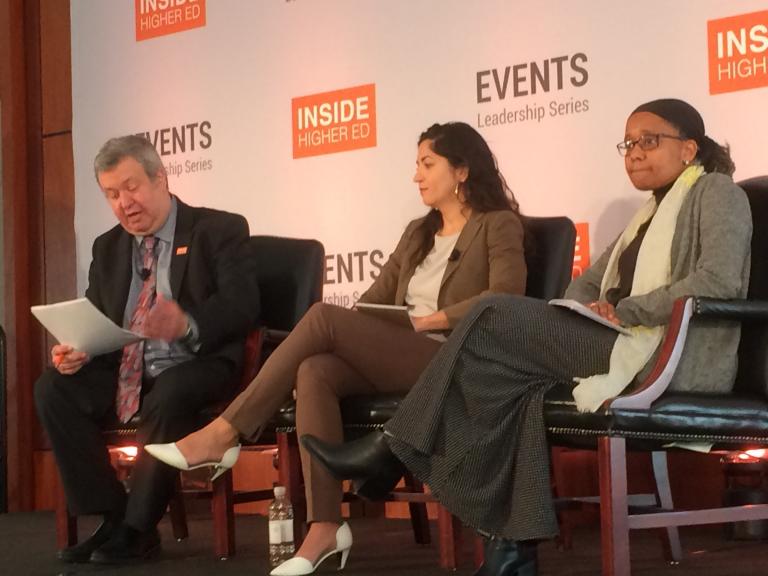 Tulane's engagement with this topic began with a white supremacist talk, after which their president said this is not a thing they can take lightly. They implemented a two-part requirement, one course on race and inclusion in the USA, one global. Most students at Tuland are from the US. Gen Ed at Tulane is 10 courses, 30 credit hours, with no specific courses required. They just entered year one of the new requirement, class of 2022 being first to have it. There is thus as yet no data on how it has worked, and no professional development plan.
The reaction was calmer to the global requirement. There was concern as to whether there would be enough about the US. Courses like Intro to African American Psychology and Intro to Gender and Sexuality Studies count. It was faculty who teach in these areas who argued for not requiring one specific course, but instead encouraging greater enrollment in these kinds of courses that already exist.
Reed is known for its common academic experience. It has around 1400 students and is a liberal arts college. The course Humanities 110 has students write 7 papers over the course of their first year. The course has existed in various iterations since 1943. Originally it started with Egypt and Babylon and ended with the 17th century. Newer versions of the course tackled issues of contemporary relevance through history, exploring identity, national sameness, and race in the ancient world. Students complained and said the course is a white supremacist institution. Lucia Valdivia suggested that is because the students in question didn't do the reading or attend lectures. The course includes the Bible, the Odyssey, themes of exile and return, and still starts with Gilgamesh. It covers 500 years in 5 weeks. Now updated, it also tackles student protests in the 60s, the Harlem Renaissance, Their Eyes Were Watching God, and Mexico City. The student protests were unpleasant. A student who was an ardent protestor as a first year later told Valdivia that she had been stupid, that at the time she didn't know what she didn't know. Reservations were thus expressed by panelists about student demands driving curricular change. 
Students were adamant about the need for two courses at Tulane, global and national. Faculty involved in pursuing implementation believed their peers to be persuadable on the necessity and the feasibility of the proposed changes. Yet in surveying opinions, they found that faculty viewed gen ed as something "extra" even more than students did! Among students, no one thinks they are overburdened, they expect to have to take writing courses, other things. They may not like it all the time, but they expect it. 
There is a need to cover both present concerns and broader perennial focuses needed in general education.
It was suggested that there are 4 "special" things in gen ed: Service learning, diversity, global, first year seminar. How do we ensure that students view all such requirements as natural, something that makes sense not just as part of being educated but as relevant to their lives and careers? The closer material is to students, the more they fail to encounter it as something different. This makes it more difficult for them to think critically about it. They think they already know. We thus need to provide opportunities for them to both expect and encounter distance. Ancient culture and history seems less urgent, and yet gender in the 16th century can provide a vantage point on issues of urgent relevance. Valdivia mentioned that she alerts students…that she doesn't do content warnings. In her course on gender and sexuality in the early modern period, she helps them understand that consent was considered taboo for women. They were expected to resist advances, to be reluctant, to have to be persuaded. Consent thus comes into focus as a constructed cultural norm, and in the process students get to learn how change can be effected.
If the Tulane approach works, the demographic in courses on topics like African American Experience of Slavery will be less self-selecting. The History program at Tulane requires majors to learn about history beyond time period on which they wish to focus. 
The relationship between institutional mission and the description of the diversity requirement deserves attention.
The challenge of balancing gen ed and professional education persists. Tulane has two sides of a sheet, 30 credits, some exemptions for engineers, dancers, and a few others. Reed revised its categories from groupings that didn't make sense to different groupings that do not make sense, for instance including language and math together. Across the board there is the problem of students finding a like-minded group to spend all their time with. How can curriculum challenge that tendency? A danger of required courses is that students hear misinformation from upperclassmen. Providing a choice of topics helps. Requiring a specific course is not a magic solution.
Butler recently stopped using a common read for all incoming students. With this sort of f
irst year book, it is challenging to get students invested.
Tulane has 6000 students, elective courses tend to have 25-40 students enrolled.
WGU asked about how diversity relates to online courses, and to preparation for the future of work.
The Robot-Ready report was mentioned:
Valdivia assumed that brick and mortar liberal arts setting, being conversation based, is not transferrable to an online setting. But that isn't so. Teaching about race online, students proved more willing to talk than they have tended to be in a face to face context. It is about using technology wisely to assist with educational aims. Sometimes it makes things better.
Mention was made of York University, which has 58,000 students, and Toronto's 200 ethnicities. There was also reference to the importance of recognizing students as knowers as well as learners. Orientation events should emphasize that all those present belong there on campus, that they have a shared identity as learners. But we must also be cognizant of the problem of thinking of courses as there to "fix" students who don't already know certain things, rather than as meaningful to everyone participating in them.
The recommendation was made that a core should undergo major revisions about every decade, and minor ones every year. I'm happy that Butler's is both open to major revision, and constantly being improved in small ways by those who participate in teaching in it and overseeing its constituent parts. 
Of related interest, see the piece in the Chronicle about inclusive teaching. See also this recent Chronicle article on diversity, the recent IHE piece on Humanities centers and STEM, as well as this:
What Colleges and Universities Can Learn from the Silicon Valley (Ironically, its not what you might think)