A while back Facebook reminded me (and several other people) of a meme with a quote from me from a couple of years ago: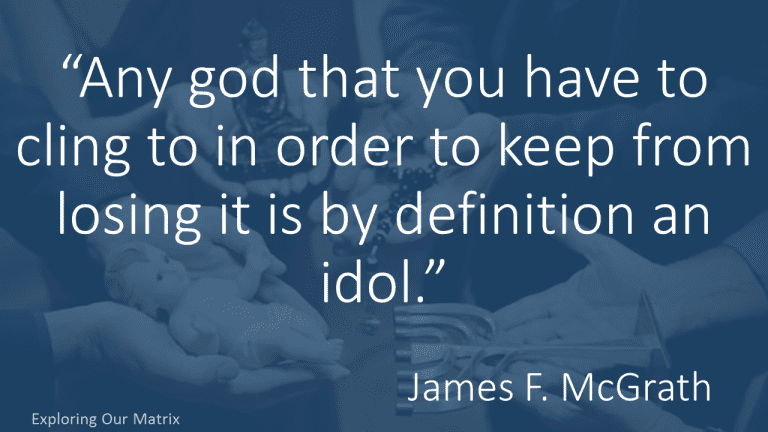 A friend responded by pointing out passages in Joshua in which the ESV renders the command as one to cling to the LORD. And so here's what I wrote in response to that:
There is definitely a place for clinging – but I think that both you and the author of Joshua would probably agree that a real deity will not be lost or misplaced if we stop clinging…whereas we might!
My point when I said this so many years ago was to address the panicked defense of doctrine that one often experiences when one sets up one's belief system as an idol. Any question, uncertainty, or affront is a threat that could bring the whole thing crumbling down. I think that if one's god or idea of the divine requires that sort of constant maintenance, it is an idol. Our relationship with God requires attention, but that experience is very different if the focus is not on an idol that we are responsible to keep from toppling…
Elsewhere:
Richard Beck shared his rule for thinking about God.
Charles Allen shared a couple of thoughts
Did complex societies give birth to big gods?
Jim Spinti blogged about attributes of God in the Ancient Near East and Hebrew Bible:
The image of God and imagining God
Who is God? by Gina Messina
A couple of posts from Pete Enns: A question that keeps coming up, and do we know God is good from the Bible?
A Post-Theistic View of Divine Necessity
Greg Boyd and the Character of God – Part 1: Introduction
Greg Boyd and the Character of God – Part 2: A Merciful and Gracious God
Greg Boyd and the Character of God – Part 9 – The Deuteronomic Revision – Part 1
Greg Boyd and the Character of God – Part 10 – The Deuteronomic Revision – Part 2
The Gender of the God of the Bible
The Masculinity of the God of the Old Testament
God and the Old Guy with a Beard
Ariana Grande and a Female God
Of Old Trees, Stardust And Moments of Wonder: A Short Introduction To Religious Naturalism…
A couple of bits of satire from The Onion: Ra Wins Westminster God Show and God Knocked Unconscious by DirectTV Satellite. AtheistRev thought this God FAQ was amusing. I didn't. It was to humor what the most smug offerings of the Babylon Bee are. Enjoyed by a particular ideological group, but in a manner that shows little genuine understanding of those who are the butt of the joke.