I am sure that many people, seeing the title of this post, will think immediately of the Monty Python moment in which a prayer is offered that expounds on how very big God is. For those who don't know it, here it is:
For someone in my field, that comes to mind as well. But I am also led to think about the very useful points that one can make on this subject, perhaps using Monty Python as a starting point – although that is not at all essential to a discussion of this topic! On Christmas Eve, many think of an infinite God becoming finite, the immensely big becoming small (despite that not being something found in the infancy stories in Matthew and Luke, but that's another matter). Height and size are metaphors, and John A. T. Robinson famously built on insights from Paul Tillich in suggesting that there is a need to find new metaphors, perhaps focusing more on depth. I hope that you'll find depth in Jesus and his story today, rather than immensity or littleness.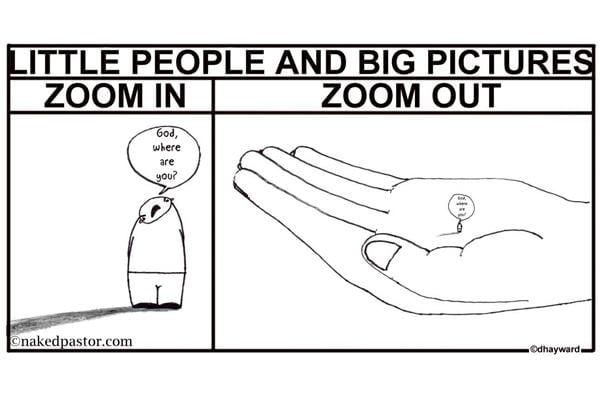 Making sense of the old God in a bigger universe than most ancients imagined
Don't put God in a box unless you want to be swallowed by a fish
Grace Unlimited on key Bible passages related to the nature and characteristics of God.
Alden Swan shared how his God survived all the various changes to his theological views, which is another effect of recognizing God's transcendence, or at least of having a God that is "big" enough as to "survive" those changes. When God is simply the name for your theological box, the container for the views you hold, then as you discard contents from it – things that deserve to be discarded – your perception will be that God is diminished.
Related to the metaphors of size is the aspect of unfathomability and incomprehensibility that has implications that Jared Byas recently explored:
Once we feel like we "have it," once we feel we understand God, we start to do whatever we can to remain feeling safe and certain. We begin to manipulate our understanding of God to keep what feels so good to us.

And so, I have begun to think that the best place for me, and for the other people I interact with, is the desert.

It's accepting that I may never arrive at certainty in my understanding of God or the ultimate meaning of life.

And accepting that not only is that inevitable as a human being with limited understanding, but it's also preferred to keep me in the most open and loving place I can be, without the need to defend my territory, my castle of safety I had built for myself.

We all know the best place to be isn't in Egypt. But perhaps it isn't in Jerusalem either. Maybe it's coming together to walk the desert in community, all of us following and trusting that mysterious pillar of smoke and fire that is often guiding us but never telling us where we're going (Exod. 13:21-22).
We live our lives feeling that there is a tension between truth and love. But there's only a tension if we believe truth and love are equals and opposites. They are not. Love is the bottom line. When we pursue a life of love, we will find truth along the way. When we pursue truth, we do not always find love along the way. When Jesus tells us the greatest commandment, it's not truth-telling, it's not fact-based, it's not doctrinal. It's love.
Steve Wiggins wrote, "I could be wrong about this, but I have always considered the willingness to admit you might be incorrect as a sign of spiritual maturity. I also know from my youth that that kind of uncertainty can drive you crazy." Lee Ann Pomrenke wrote about the experience of reading Emmy Kegler's memoir.
Also relevant is a post on another Patheos blog about the need to not hide behind a supposedly "plain reading of the Bible." See too Chris Glaser on risking brokenness of body, a post in which he talks about Process theology (among other things).
See also:
Why Does the Hebrew Bible So Often Refer to God as "Lord of Hosts"?
The Future of Religion: What Follows the Decline of "Big Gods?"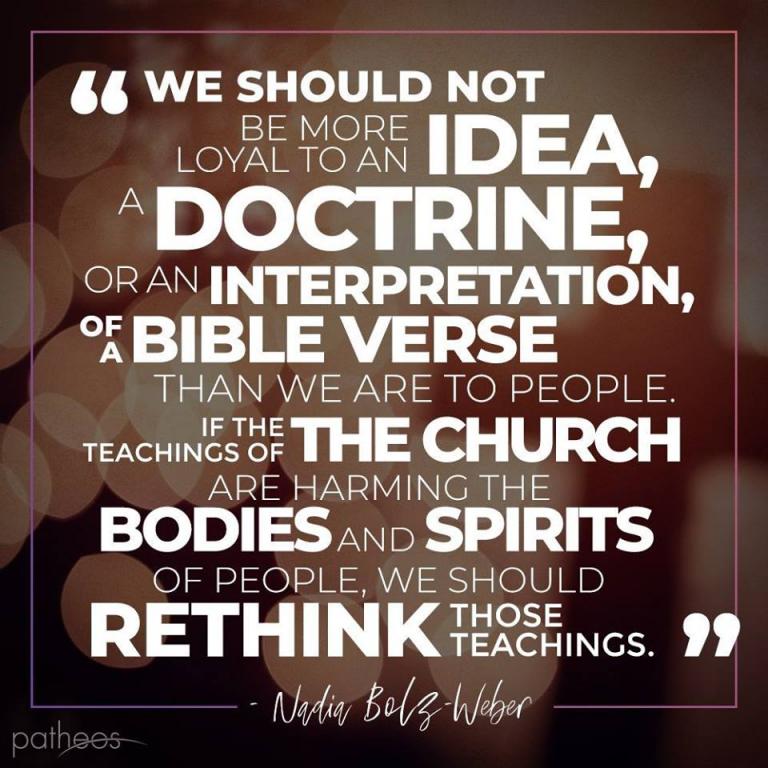 Finally, even though I will say it again tomorrow to all, I wish an especially merry Christmas to all those blog readers who read my posts all the way to the end, and so will see this!