I'm sure I'm not the only religion professor who is a Star Wars fan whose ears perked up when the Mandalorian said
A former student of mine shared this meme with me, pointing out that the early Christians referred to their movement as "The Way":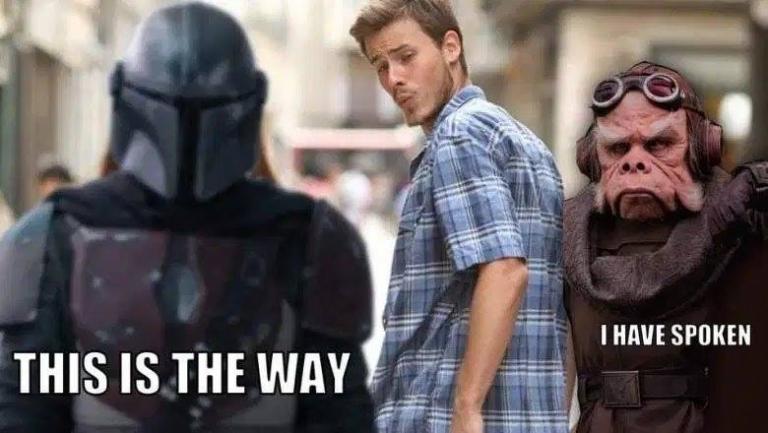 Mike Duncan writes in the first post in a series of Star Wars emails:
My favorite scene in the first Star Wars film is… the meeting chaired by Grand Moff Tarkin. Why? Well, it's a classic example of an announcement that could have been handled better with an email because there is no action to be taken, and Tarkin surely had better things to do than watch his subordinates bicker.
Read and enjoy it, and then move on to the email exchange between Leia and Obi-Wan, one between Luke and his aunt and uncle, Han and Greedo (cc-ing Chewbacca), and Boba Fett and Darth Vader. I could imagine a whole book in which the entire Star Wars story unfolds but using emails and texts to address matters remotely in the way we do now, and so we would have to imagine that a more technologically advanced society would even more efficiently.
In other Star Wars news:
IO9 had two pieces on the sheer number of languages in the Star Wars galaxy
The Ewoks as the most tactical fighting force in the galaxy
The Han shot first scene has changed again
Sebastian Gorka says that the introduction of LGBTQ characters will "destroy Star Wars." See IO9 for more on what this is a response to.
The cantina in Mos Eisley went from not allowing droids to employing them
Lots of Rise of Skywalker news, including Daisy Ridley on filming the ending
Kathleen Kennedy on reveals in trailers, the future of Star Wars movies, and the long road to ending the Skywalker story
Rise of Skywalker character posters
Adam Driver interview mentions "Rendemption"
Luke Skywalker Comes Face to Face with Darth Vader in Marvel's Star Wars #75 – Exclusive