Someone in my Sunday school class asked whether we could celebrate communion next Sunday. I suggested the acronym BYOB would work, not just for "Bring Your Own Bottle" (although wine is one of the elements) but also "Bring Your Own Bread." I'm glad that Zoomcharist hadn't occurred to me as a possible word yet at that point. I got there after briefly toying with the idea of calling it Comm-Zoom-ion.
But lame attempts at puns aside, have any readers of this blog celebrated communion virtually? If so, what was it like? How did you go about it? What are your thoughts, insights, and recommendations?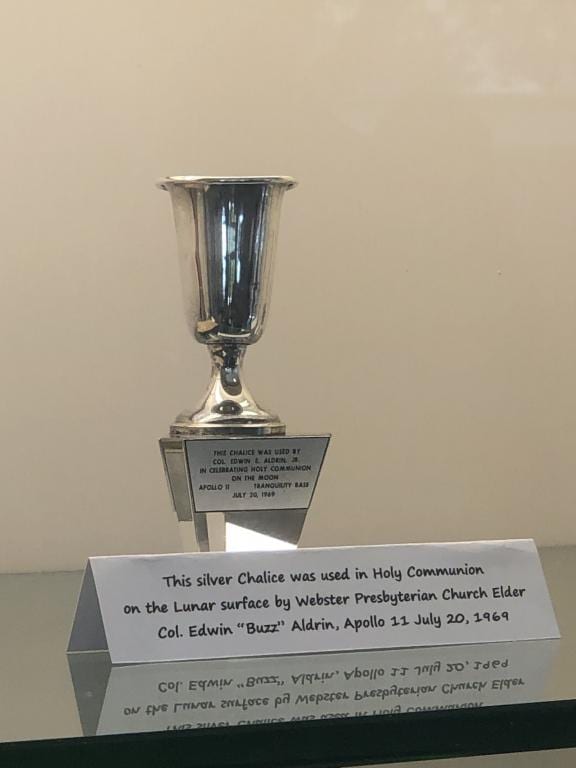 As I was thinking about and exploring this topic, I was reminded of the fact that the first meal on the moon was communion. That example helps us put this topic in an interesting perspective. Does physical distancing equate with "social distancing"? What about "spiritual distancing"?
As the article I linked to above states, "The first food eaten on the moon. It wasn't dehydrated pudding or freeze-dried ice cream. It was Holy Communion…After Apollo 11 landed safely on the moon, Buzz Aldrin took out a piece of bread and some wine that he packed in the personal preference kit that each astronaut was allowed."
Buzz Aldrin was roughly the distance of 30 Earths away from all but a couple of other human beings. And he celebrated communion, and found it meaningful. I think you can too, especially if you are in direct contact via Zoom with other human beings in a way that exceeds the image quality and speed available at the time of the Apollo 11 mission.
And for those who share my distinctive array of interests, this means that in the future celebrating the eucharist on Mars will also be a possibility, a topic that comes up here:
Alone in a desert and no church to go to!
Here are some resources and news items related to this topic of what some, for better or worse, are calling "virtual communion":
Dana Delap has an article, "How We Shared the Bread and Wine on Zoom," in The Church Times. It is a very helpful exploration of the ways theology, church hierarchy and authority, pastoral concern, and technology are intersecting around this issue.
Steve Holmes offers a Baptist perspective: Part 1 and Part 2
Communion in a Time of Social Distancing
Online Resources for Online Communion
Virtual Communion: Church Leaders Say It Can Be Done
How Churches Can Practice Social Distancing Without Cancelling Services
Jason Goroncy on Holy Communion and COVID-19
What is the Role of the Church During This Pandemic?
Pre-filled Communion Cups in CNN Business News
Local Church Gets Creative Serving Communion
Jim Wallis on Coronavirus at Easter
Electronic Communion by Extension at Easter
See Charles Allen's reflection on communion, Easter, and Emmaus
Lucy Peppiat offered perspectives aimed at charismatic Christians:
What is the Church when we can't gather?
And perhaps my favorite headline or title for a post related to this topic:
See also:
Finally, if you're wanting to make your own bread, or share in something more substantial in the manner the early church seems to have, here are some of my wife's wonderful recipes for bread rolls (more or less universal), bagels (Jewish by way of New York), and cozonac (a Romanian and more broadly Eastern European sweet walnut bread that is made for special occasions and especially holidays like Easter and Christmas).