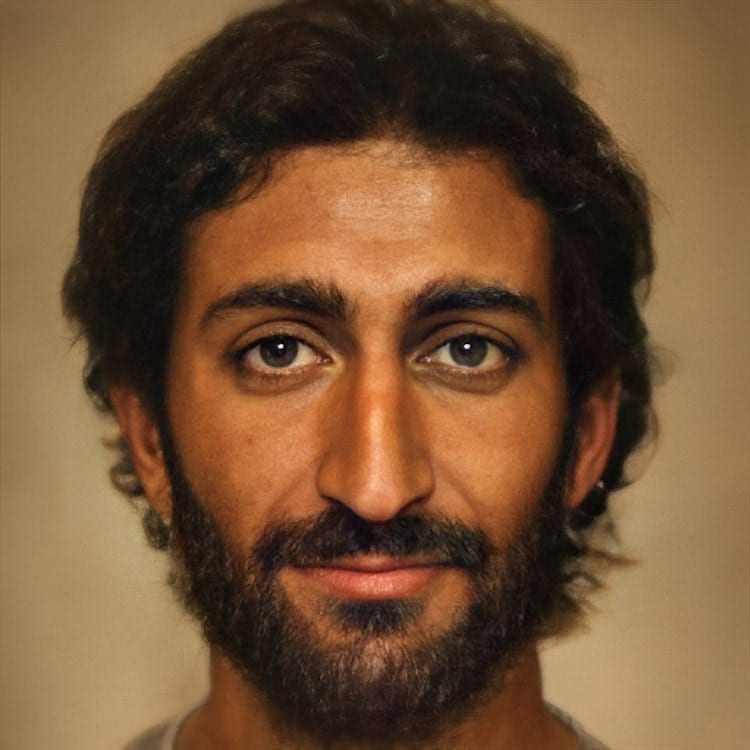 Bas Uterwijk, Dutch artist, did something remarkable. He took a variety of artistic renditions of people who lived before the era of photography, including paintings, status, icons, and whatever else happens to be available. He fed those to an artificial intelligence program to see what emerged out of the combination and commonalities among them. The results are very striking. No one will be surprised that, however interesting the rendering of Vincent van Gogh might be, I was far more captivated by the way Jesus is depicted. You can see that image above.
Someone who shared the image on Facebook wondered whether the icon Christ Pantocrator of St. Catherine's Monastery at Sinai was the or a main image used. When I saw it my first instinct was to wonder what the influences were, since I saw the image before I read about the artist's method. Once I understood it, I too immediately began thinking of particular depictions of Jesus.
I am struck by the fact that, by allowing artificial intelligence to create a realistic human face based on some of our oldest icons and classic artistic depictions, the result is something really quite plausible. Of course, the artist didn't just leave it up to the AI in every respect. One particular detail gets mentioned in the articles I have linked to below. Uterwijk saw the AI gave Jesus long hair. He decided that a short-haired Jesus was more historically and culturally appropriate and plausible.
What do you think? Will this become our generation's mental image of Jesus? Do you think it ought to? Why or why not?
For more on the question of what Jesus looked like, the go-to volume is of course Joan Taylor's book.
For more on the artist behind the image above, and other examples of his work, see the following:
Artist Recreates How Iconic Figures From History Would Really Look in Real Life
Here's How 20 Famous Historical And Fictional Figures 'Really' Looked Like
See also this critical analysis of what Uterwijk has produced.