This post is about two anonymous sources of sayings attributed to figures who are regarded by their followers as prophetic leaders striving for a just order against forces of darkness in high places.
When you put it like that, it becomes clear that QAnon is essentially an apocalyptic religion. I was initially inclined to call it a "secular" apocalyptic cult, but secular may not be the right word.
The Q source that is referred to in New Testament studies is a collection of sayings attributed to Jesus. The Q that is the focus of QAnon is not yet named. I'm going to focus on the latter, but I am making a connection between the two that will go beyond the mere similarity of abbreviation.
It is worth pointing out that first saying attributed to the present-day Q was a false prophecy:
"Hillary Clinton will be arrested between 7:45 AM – 8:30 AM EST on Monday – the morning on Oct 30, 2017."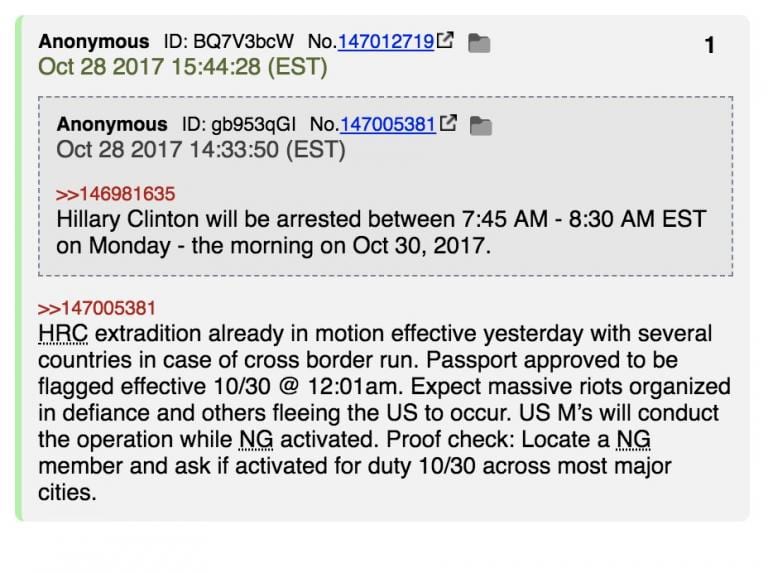 Some of these so-called "Q-drops" have an oracular character about them such that they would fit naturally in a collection of religious and/or political inspirational sayings. For example:
Do not glorify us.
WE are ALL Patriots.
Honor those who serve.
FOR GOD, HUMANITY & COUNTRY.
Where we go one, we go all.
Q
As I said, not a secular religion. God is not the focus of most posts, even if listed here ahead of humanity and country. The imagery of a war between light and darkness is reminiscent of ancient apocalyptic literature, and of course the Gospel of John in the New Testament:
The light will reveal those on the team and those pretending to
be.
This is not a game.
They want us divided.
Last posts [self destruction] will immediately show the world
the TRUTH.
Instructions will be sent on how to preserve offline.
You didn't think this was simply about words did you?
We have it all.
Coming soon to a theater near you.
Q
Note as well the call for faith:
We are FIGHTING for LIFE.
We are FIGHTING for GOOD.
We are at WAR [@].
NOT EVERYTHING WILL BE CLEAN.
[SCARE] NECESSARY EVENT.
Do you TRUST the US Military?
Do you TRUST the Chain Of Command?
Have FAITH – WE ARE IN CONTROL.
PATRIOTS.
PATRIOTS DAY.
HAVE FAITH.
YOU WERE CHOSEN FOR A REASON.
YOU ARE BEING PROVIDED THE HIGHEST LEVEL OF INTEL
TO EVER BE DROPPED PUBLICLY IN THE HISTORY OF THE
WORLD.
USE IT – PROTECT AND COMFORT THOSE AROUND YOU.
WHERE WE GO ONE, WE GO ALL.
Q
Some are explicitly political; some purport to offer authoritative interpretations of news articles, tweets, and world events; some are obscure riddles like so many religious oracles; some are all of the above. As in many religions, the oracle may utter enigmatic riddles and then it is an individual or community claiming to provide the correct interpretation of them that really drives the direction things take. Here's an example of one of the riddle-like sayings in a q-drop:
>7935
Timestamp.
Decipher.
Think clock.
Wind the clock w/ all markers.
Relevant.
Future proves past.
Q
I think that religious studies scholars need to turn our attention to this phenomenon more than we have. The QAnon movement bears resemblances to things we study in religion. This is unlikely to be a coincidence, even if one may wonder whether it is intentional or instinctively done. We have tools in our field that may help provide insight. We may be able to provide important perspectives to those who are seeking to resist the influence of this pernicious conspiracy theory that began with a false prophecy and yet is believed by increasing numbers.
We just need to take seriously the fact that it is a religion.
I would not be surprised to learn that the start was mere trolling. It began on 4chan, after all, and there is no reason why someone in government who wanted to disclose behind-the-scenes information would start there, although the people who have frequented that site and its successors were probably prone to believing their corner of the internet was that important. Susceptibility to religious influence and a desire to connect with someone or something that is a genuine power in the universe are important here. From trolling, as it grew, the person behind it may have transitioned from troll to charlatan preacher, one who knows he is a fraud but enjoys and/or profits from bilking the gullible of their faith, praise, and/or money. From there the person may have developed something akin to a messianic complex as they've seen the kind of influence they can have all the way to the White House, the Senate, and the military. It would not be the first time someone who knew they were a false messiah came to believe in themselves.
That may not be the case, however. It is entirely possible that the ultimate aim is still trolling. Even before there was QAnon, the kind of crowd one finds on 4chan might well have said, "Wouldn't it be hysterical if we could get Donald Trump elected president?" From there, seeing how outlandish one can make the claims about the "deep state" and find an audience of believers might be the aim (remember Pizzagate?). The challenge is to work out what the closest analogues are, recognizing that however many parallels we may find, religions are distinct and models and comparisons have their limits even as they provide helpful insights. Studying religious figures who fostered "satanic panic" through false narratives may help. (Mike Warnke and Jack Chick are names that come to mind in this category.)
There may be, not an individual, but a community behind it. There are certainly communities around it. Scholars who study the ancient Q source have sometimes been criticized for being too speculative in positing a "Q community." But then as now, one cannot neglect that people write for an audience, influenced by and hoping in some way to influence those around them. Then as now, it is really only careful study of the primary text, peeling away layers of interpretation, that may help us recover the point of origin and tradition history of what has come down to us.
One thing is clear: we need to bring insights from religious studies to bear on this. It may also be that studying QAnon through this lens will help us to better understand some of the sociological, political, and psychological aspects of religiosity that we seek to study in ancient texts.
Here's a little more from an ABC News article which has followed clues to who Q is, the following quotes highlighting the religious language used in the article and by those involved in the movement:
QAnon's messaging is laced with religious allegory, prophesies, puzzle-solving and an emboldening sense of belonging to the right side of an epic battle of good versus evil.

The user "Q Clearance Patriot," known to followers as "Q," purports to be a high-level military intelligence official who leaves clues about the secret battle behind the scenes with "Q drops" — messages first posted in late 2017 on the anonymous imageboard 4chan, and later on 8chan and its successor, 8kun…

"If Trump loses, I think that how a lot of people are going to view it is: the deep state has won. Trump has lost. Our god, essentially, has been crucified," [Fredrick Brennan] said. Because, "Trump is — for many of them — a god, and they are going to punish Democrats on the other side with political violence. That's what I see happening."
See also the article about QAnon in the latest Christian Century.
I cannot write a post of this sort without including this image of Q and Q reading Q, by Neill Cameron: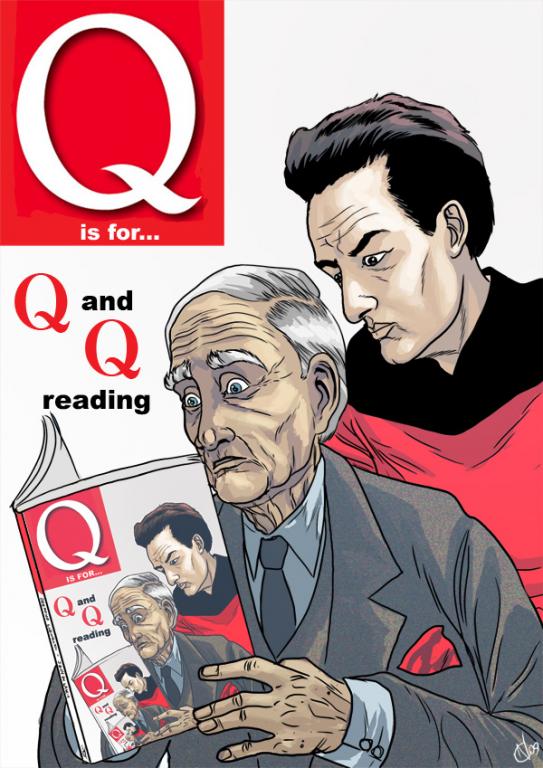 See also:
Majority of Trump voters believe Biden didn't win the election
Evangelist: Christians Must "Be Loyal to God" and Reject the Election Results
Pastor: Trump Will Soon Arrest and Execute People Trying to "Steal" the Election
Millions of Americans Believe Trump Is Fighting Literal Demons