There was one person who was immediately at the top of my list of possible endorsers for my book What Jesus Learned from Women when I began working on it: Rachel Held Evans. By the time I finished the book, my sadness at her untimely death was compounded with the thought that I would not have the chance to find out what she thought of the book.
Recently, I began to see the at once thrilling and heartbreaking news that Rachel had been working on a children's book before she died, and that the book would be completed by Matthew Paul Turner and published. I confess that I was a little envious seeing posts by others who had received advance review copies of the book, the title of which is What Is God Like? Little did I know that there was one waiting for me on campus. It came in a beautiful box adorned with some of the truly amazing artwork that fills the book, with a card from Matthew.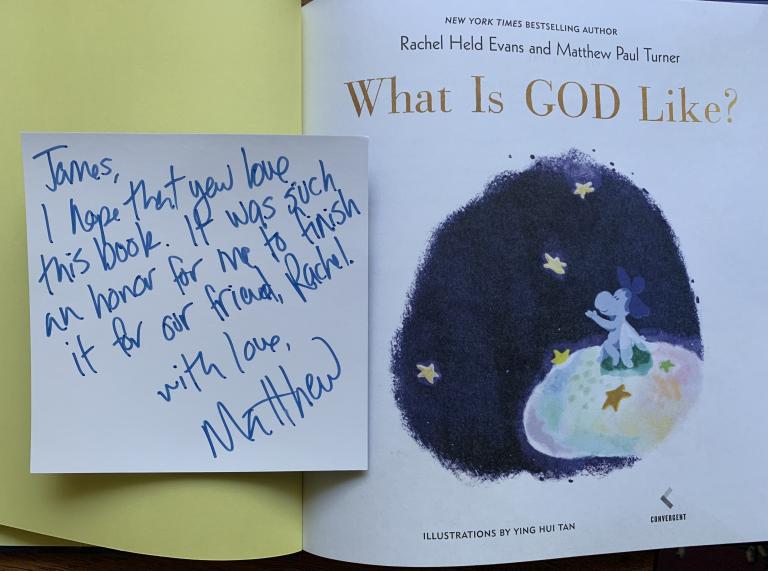 It was only when I finally held a copy in my hands, and opened the book for the first time, that I allowed the sheer audacity of the book's title to sink in. What is God like? Is there any more basic, more controversial, more challenging question in all of religion than this?
Leave it to Rachel Held Evans to tackle it, and have the result be not merely satisfying but rich, beautiful, and powerful. The book will be for adults a painful reminder of what the world lost when it lost her.
Those who have young children, however, will undoubtedly also experience joy as they see the powerful impact the book has as their children read it, just as Rachel wanted her own family to enjoy it.  I wonder if there is a way to get advance review copies into the hands of children in cases like this. As much as I value and cherish mine, on one level I would have preferred that it be in the hands of young children and that my adult-written review be replaced with a video of its primary intended audience reacting to it.
They say a picture is worth a thousand words. The book's artwork by Ying Hui Tan will speak even to children too young to understand the words, to whom the book may be read, but even without any words added the images speak. They depict children as well as adults in diverse and inclusive images that present a vision of humanity and the world we live in that is also at the core of the message of the book's words.
From the very first pages, the words pose the question, acknowledge it is a big one, and make the audacious claim "we can know what God is like." If you are an adult for whom that seems not merely daring but impossible, perhaps the book is for you as well and not merely for any children you might have. For adults more sympathetic to this claim, the way it can be made—and made not just plausibly but persuasively—is to be found in the fact that for very few people is God something or someone completely separate from the reality we inhabit and are a part of. For theists who believe in a Creator who stands over against creation, God's character is nonetheless expressed and reflected in it. For pantheists and panentheists God and that reality overlap, whether in entirety or in part, and so the meaning of God is precisely the sacred depth of reality. The book works, I think, even for those for whom God denotes our deepest values and ideals as human beings expressed symbolically and is agnostic about anything else beyond that, although I hope to hear from parents with diverse views and perspectives, across a wide array of religious traditions, to find out whether I am really right about this.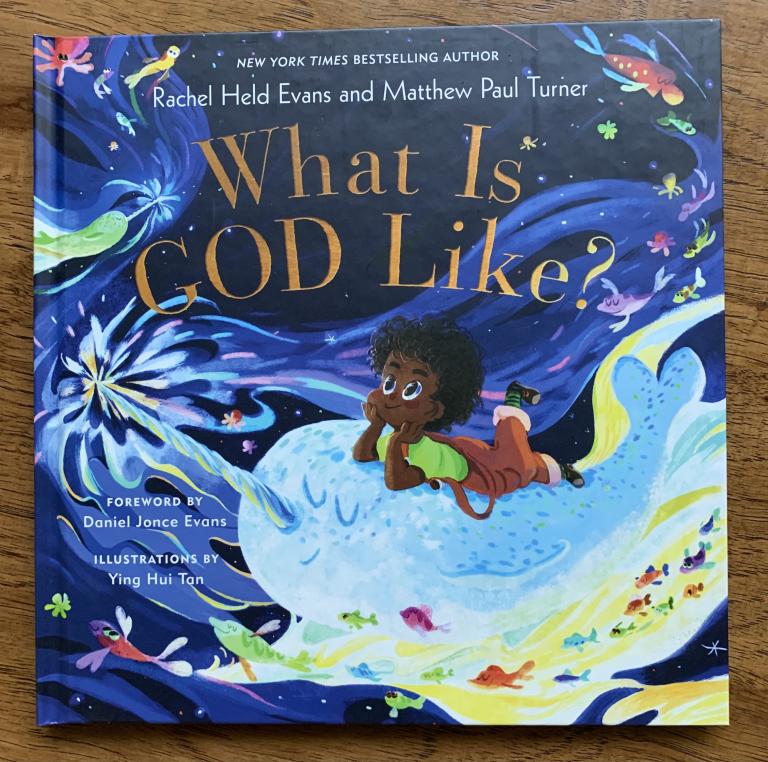 The book's words and images explore those pointers to transcendence in our daily experience. It is so incredibly impressive to see Rachel's inclusive Christian faith expressed in a manner that is, from a theological perspective, profoundly Christlike and even Christocentric without being at all preachy. The book isn't about how Jesus shows us what God is like in the manner that exclusivist theologies would say. Yet the use of parables to teach, and her recognition that children are open to asking questions adults shy away from and exploring answers adults may avoid and dismiss,  reflects Jesus' example and influence on the authors. Specific images such as that of loving parent are of course also a direct connection. But while some emphasize Jesus as unique revelation of God, a more inclusive reading realizes that he is said to be the embodiment of the light that gives light to every human being, the last Adam who embodies creation at its best. For Christians, God may be encountered par excellence in the life and teaching of Jesus. Yet some Christians may ironically miss how Jesus' life and teaching express this affirmation of the goodness of creation and the knowability of God through analogy. The concluding words seem to echo, at a level aimed at children, what Paul wrote mainly for the adults in the church in Philippi. After an encouragement to keep asking questions, wondering, and searching, readers are told, "whenever you aren't sure what God is like, think about what makes you feel safe, what makes you feel brave, and what makes you feel loved. That's what God is like."
Thank you, Rachel and Matthew, for writing a book that I am sure will not only help children and enrich their spiritual lives, but will benefit adults as well. Not only is its message to children one that parents will benefit from being reminded of as adults, but the book also demonstrates, I think, what it can look like to write for children and for a general audience as a Christian in a manner that is faithful to and does not hold back what is central to our tradition, and do so without excluding others from being able to fully benefit from and appreciate what we have written. It is a remarkable accomplishment, and I am delighted that the book has been published and is now available.
The book also includes a foreword by Daniel Jonce Evans in which he shares briefly yet poignantly of the joy of motherhood and family life that inspired Rachel to begin writing books for children, and how it came about that we have the privilege of this book being shared with the world even though she did not live to complete it.
For another review Brian LePort also blogged about What Is God Like? here:
Rachel Held Evans and Matthew Paul Turner's "What Is God Like?"
The book is available from Amazon and through any bookseller.