Another first for me on my recent trip to the Holy Land was visiting Samaria. I had the absolute best guide possible. Seriously, who could possibly offer more insight to the Samaritans and their way of life than Abood Cohen, the grandson of the Samaritan high priest? If you have seen documentaries about the Samaritans, you have probably already seen him. I will include a couple at the end of this post. Here is a link to where you can hire him as a guide. If you have or may make plans to visit the Holy Land, take a day to visit Samaria and have Abood as your guide. While it may not feature in every private tour he leads, this one included something that I could never have imagined would be part of my experience. I had the chance to briefly be introduced to his grandfather and to receive the Aaronic priestly blessing (Numbers 6:24-26) from none other than the high priest. These Hebrew words are well known and are the oldest words from the Hebrew Bible/Jewish scriptures/Old Testament recorded anywhere, found as they were on an amulet from around the 6th century BC which today is in the Israel Museum. Seeing it there a little later in this trip was more special than on any previous visit due to having had them pronounced over me, my wife, and our niece who was with us, by none other than the high priest.
While Judaism says that the correct high priestly line remained in Judaism and the correct place of worship was in Jerusalem, these Israelites descended from the tribes of Ephraim, Manasseh, and Levi have worshiped in this place since time immemorial. Before the efforts to centralize worship in one place, "the place that the Lord your God will choose" could be more than one place and/or could shift. There was at one point also a place of worship at Shiloh, among many other smaller local shrines. One place I thought about stopping at but didn't while in Jerusalem is Tel Motza, not far from Jerusalem, where there was a full-fledged temple that was active as a place of worship throughout most of the era of the Israelite monarchy. Pre-exilic Israelite religious beliefs and practices did not all simply disappear after the exile. We can see how some ideas and names persist into Mandaeism, and one of the questions I have is whether John the Baptist served as a link in the chain, and if so how that came about. (See my previous posts on the blog about this subject, the Talk Gnosis podcast I was on, and the YouTube video I recorded as a backup in case I had internet issues when giving a paper on this subject at an Enoch Seminar conference.)
Abood took us to Mt. Gerizim to visit the archaeological site there. Given the interchangeability of terms for tabernacle and temple in how Samaritan literature refers to their place of worship, it is a possibility that historically they had a tent according to the Levitical specifications rather than a temple made of stone, at least for part of their history. It is difficult to determine. Today they worship on the site without either building or tabernacle.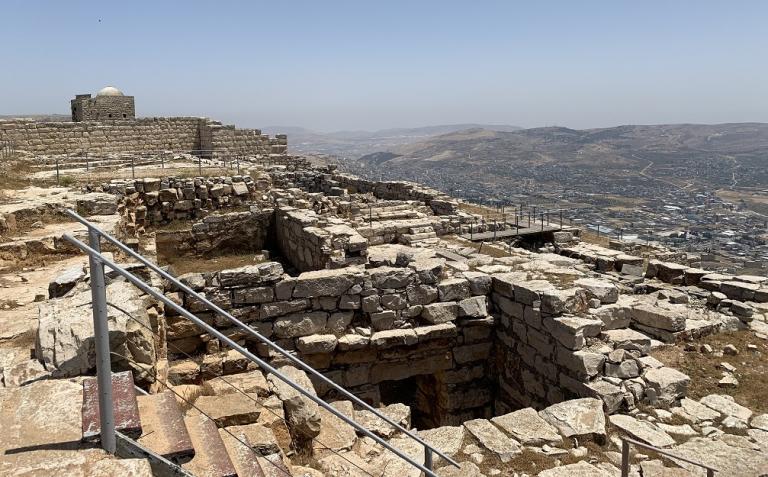 We also visited the Samaritan Museum which features contemporary and historical materials related to the Samaritans, including the model of Mount Gerizim and their worship there and the Torah scroll written in Samaritan script seen below. The museum also contains artifacts and texts, genealogies, paintings, and much more.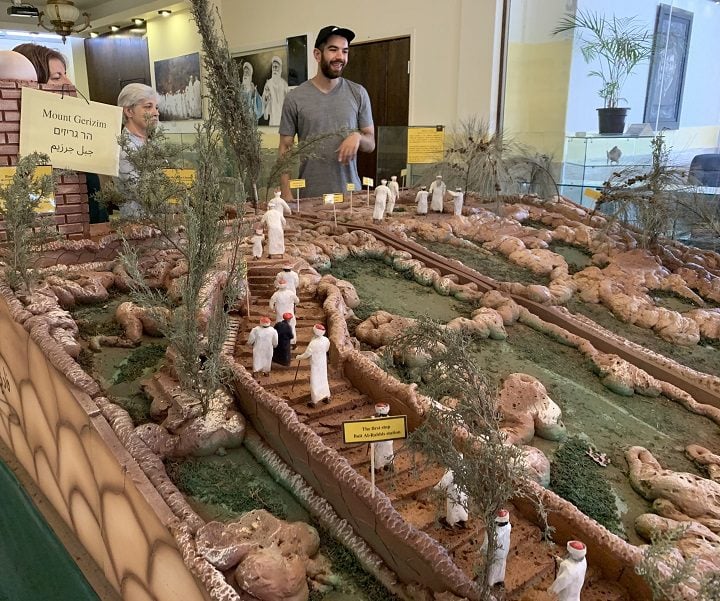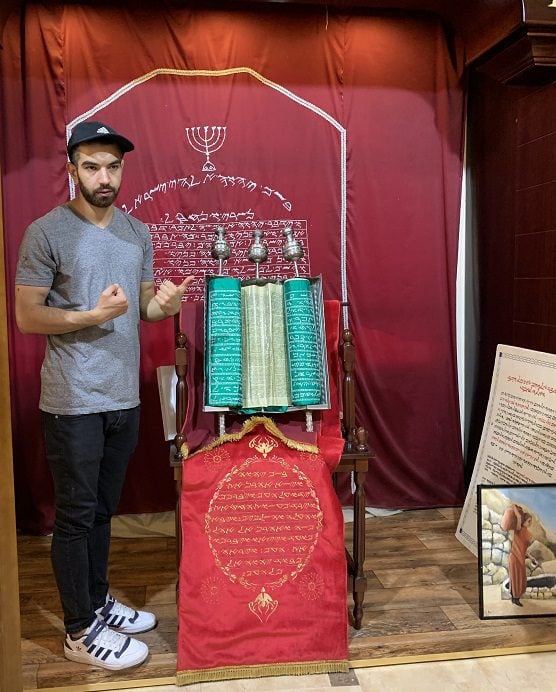 Abood also took us to his family's tahini factory, quite possibly the only one in the world to feature a Samaritan mezuzah above the door. Har Bracha Tahini is genuinely the best I've ever tasted. As someone who has given up all unnecessary carbs it was a delight to taste their tahini in a tiny paper cup and realize that the flavor I used to like in halva when I ate sweet things can be enjoyed, and appreciated even more, without the sugar added. Although I haven't placed an order yet I was glad to see that you can order Har Bracha Tahini on Amazon!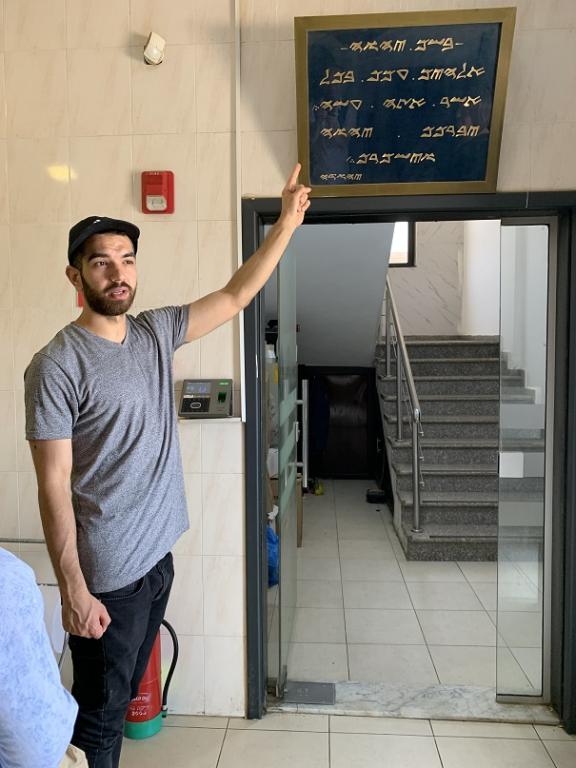 We also visited the church built over Jacob's well in Sychar. Since that location features on the cover of my book What Jesus Learned from Women I had to give Abood a copy of my book there and get a photo of us at the well.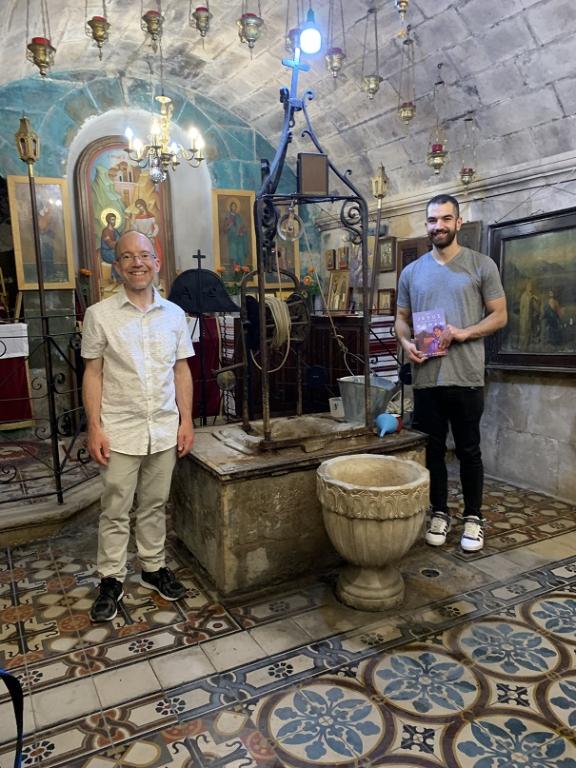 We also went to Sabaste where there is a site that is supposed to be the tomb of John the Baptist. Even if not the actual place he was buried, the fact that such a tradition arose, the fact that Gnosticism traces its origins to disciples of John's from Samaria, together with things in the New Testament all raise questions about John and Samaria, and how that relates to his vision for all Israel and his conviction that God offered forgiveness of sins rather than exclusively in either the temple in Jerusalem or on Mt. Gerizim.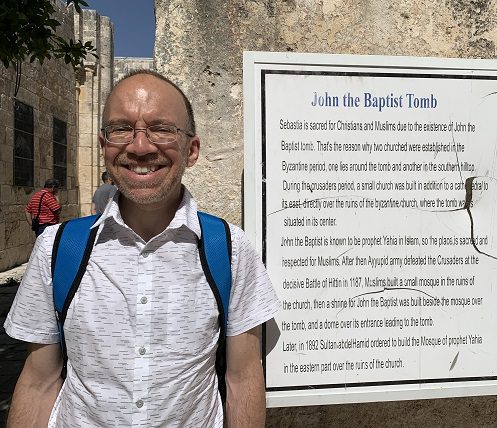 It was very sunny. I blinked. Sorry. But this was an amazing day, just one of many, but definitely among so many wonderful experiences on this trip still very much a highlight.
As promised, here are a couple of documentaries in which Abood appears and shares his perspective on his people and their heritage.
The previous post in this series is here:
In the Footsteps of John the Baptist Part 3: Aenon near Salim
Don't forget to order some tahini – you won't be sorry!