Should abortions for known Down Syndrome fetuses be banned?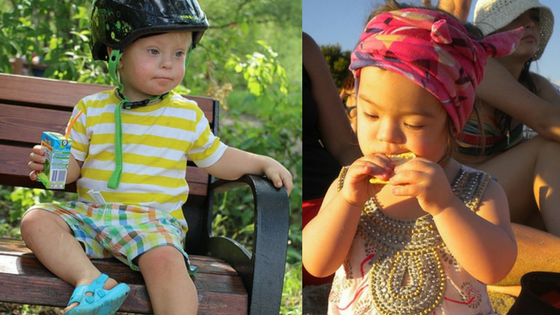 Women's access to abortion became perhaps the most intense religiously-motivated debate a few years after the famous Roe v. Wade ruling by the U.S. Supreme Court ruling in 1971.
Roe v. Wade gave women free access to abortions during their first trimester and allowed states to create progressively restricted access later in pregnancy.
Down Syndrome, sometimes written as "Down's Syndrome" causes newborns to experience an intellectual disability that is usually mild to moderate, and hypotonia (weak muscle tone). Some characteristics of the condition are:
A characteristic facial appearance.
Approximately 50% have a heart defect.
Smaller percentages suffer from other medical problem ranging from digestive abnormalities to leukemia.
Many suffer a decline in intellectual abilities and/or develop Alzheimer disease after the age of 50.
The average life expectancy in the U.S. is about 60 years, approximately two decades shorter than the average person.
The syndrome is usually caused by a condition known as Trisomy 21, a condition in which the person has a third partial or complete copy of their chromosome 21 in addition to the normal two. This normally affects every cell in their body.
However, there is a rare condition called mosaic Down syndrome in which only some of the body's cells are affected.
Most cases of Down syndrome are not inherited.
The syndrome can be detected with a prenatal test in the second trimester of pregnancy — sometimes late in the first trimester.
The risk of giving birth to a baby with Down syndrome is about 1 in 1,500 for a woman aged 20, rising to 1 in 800 at age 30, 1 in 270 at age 35, 1 in 100 at age 40 and 1 in 50 at age 45.
U.S. Health and Human Services have a thorough description of this syndrome and dozens of links to other sources of information and resources.
The number of newborns with Down syndrome has been dropping steadily since prenatal screening tests became available about the year 2000.
Recent data in the U.S. shows that about 67% of pregnant women who test positive for Down syndrome elect to terminate their pregnancy by having an abortion. In France, it is 77%, Denmark 98%, and Iceland at almost 100%.
With a population of approximately 330,000, Iceland has almost wiped out the syndrome. Only about two newborns with Down syndrome are born there each year.
An Icelandic geneticist, Kari Stefansson, said:
"It reflects a relatively heavy-handed genetic counseling. And I don't think that heavy-handed genetic counseling is desirable. … You're having impact on decisions that are not medical, in a way. … I don't think there's anything wrong with aspiring to have healthy children, but how far we should go in seeking those goals is a fairly complicated decision."
Hulda Hjartardottir, who heads the Prenatal Diagnosis Unit at Landspitali University Hospital, said:
"We try to do as neutral counseling as possible, but some people would say that just offering the test is pointing you towards a certain direction. Indeed, more than 4 out of 5 pregnant women in Iceland opt for the prenatal screening test."
Sally Phillips is an actress in the UK whose first child, Olly, was born in 2004 and has Down syndrome. She made a documentary for BBC called: "A World Without Down's Syndrome." She feels that the eradication of Down syndrome through abortion would make the world a poorer place.
Viv Groskip, writing for The Guardian, said that Phillips' family life has not been distressful. Rather, as seen in the documentary, it is:
"… the counter-narrative: water fights, paint fights, an obsession with Barcelona football club and a lot of dancing. Olly, it turned out, was completely different to the 'tragedy' she was reading about. 'Olly smiled his first smile at four weeks, like any baby, and it was this massive great big smile. I remember I had this one moment when I was going into town on the bus and there were these two mums with their 'perfect' babies and they were complaining and whining about everything. I thought, oh. I'm supposed to be having a dreadful time? I'm really not'."
Pre-Natal Detection of Down Syndrome in the U.S.
There is general support for women electing to have an abortion where their life is in danger, or if a continued pregnancy would cause her significant long-term disability.
There is also a high level of support for abortions of an embryo or fetus without a brain or where it has some other major defect that would prevent her or him from living after birth.
But support for aborting fetuses with a birth defect or disability is much less. Going down that path could easily lead to abortions motivated by the fetus being of the wrong gender — a situation that is observed in some countries where women are not valued as equal to men.
2017-DEC-13: Ohio
The Ohio legislature passed House Bill 214 that bans abortions because the embryo or fetus has been diagnosed with Down syndrome. It was the 18th restriction on abortion to be passed in the state since 2011. The bill was later signed into law by Governor John Kasich (R). Doctors who knowingly violate the law may lose their license, be charged with a 4th-degree felony, and could receive a jail sentence of up to 18 months. Women would not be penalized.
Michael Gonidakis, president of Ohio Right to Life, said:
"Every Ohioan deserves the right to life, no matter how many chromosomes they have."
Angela Boblitt has a 4-year-old child with Down syndrome and runs an adoption agency. She said:
"I just think it's a part of the puzzle to us coming toward seeing an end to abortion, … we definitely do feel that aborting a child because of a medical diagnosis is discriminatory."
Alexa Kolbi-Molinas, an attorney with the American Civil Liberties Union, said:
"This [bill] encourages women to withhold information from their doctors, and it prevents them from having open and honest conversations to be able to make the most-informed decision, It is all the more clear that [lawmakers] will try anything to push abortion out of reach for women in the state."
Leesha Thrower is a communications professor at Cincinnati State Technical and Community College. She is pro-choice and has a 6-year-old with Down syndrome. She said:
"If politicians were really concerned with Down syndrome, the things we'd be talking about are access to health care, independent living, opportunities for children when they graduate high school. We'd be talking about companies that should be hiring children with Down syndrome."
Governor Kasich signed the bill into law on 2017-DEC-22. Mike Gonidakis, president of Ohio Right to Life thanked the Governor, saying::
"Ohio is and will continue to be a state that sees the lives of people with Down syndrome as lives worth living, thanks to this legislation."
The Ohio law is widely expected to also be challenged in federal court.
Indiana and North Dakota have passed similar laws, but they have been found unconstitutional as a result of challenges in the courts.
The ruling by the U. S. Supreme Court in Roe v. Wade during 1971 eliminated all restrictions on abortion access during the first trimester of pregnancy when some Down syndrome testing can be done.
References
U.S. Department of Health & Human Services. 2018. Down syndrome.
Quinones J, Lajka A. 2017. CBS News. Inside the country where Down syndrome is disappearing. What kind of society do you want to live in?
The Guardian. 2016. Sally Phillips: Do we really want a world without Down's syndrome?
Somashekhar S. 2017. The Washington Post. Ohio moves closer to banning abortions when fetuses have Down syndrome.
Berchardt J. 2017. Cleveland.com. Gov. John Kasich signs Down syndrome abortion ban.
The views presented on this blog are an extension of those presented on the Religious Tolerance website. The purpose of all articles is to compare the full range of beliefs and actions by people who are members of various faith groups within Christianity and other world religions, individuals who are NOT Affiliated with a faith group (NOTAs), and secularists.