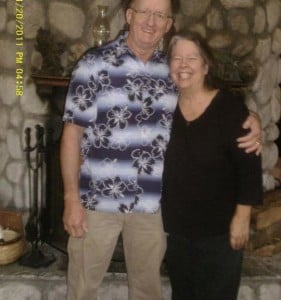 Six years ago today my dear friend, Gretchen Passantino Coburn, passed away.  What follows is an essay I wrote a week after her death.
——
Gretchen Passantino Coburn died last week [10/02/14] at the age of 61. Although virtually all of my Catholic readers, and most of my Protestant ones, have likely never heard of her, she was, along with her late husband, Bob Passantino, an important influence on many of us who considered ourselves to be intellectually serious Evangelicals.
Although I had heard of the legendary Passantinos during my days in college in the early 1980s, I had never actually met them until April 1991, when I was in southern California attending the Far West Region Meeting of the Evangelical Theological Society. I do not recall who it was that invited me to their home, but I do recall my initial impressions of them.
They and their three children lived in a small green home that stood alone and to the right of the parking lot adjacent to a Missouri-Synod Lutheran Church in Costa Mesa, California, a city that borders the more upscale Newport Beach. When I knocked at the door, Gretchen answered with a big smile on her face. Dressed like a hippie right out of central casting, she gave me a big hug, told Bob, "Frank Beckwith is here," and proceeded to yell to her son Paul to clean up and get ready for dinner, "We have company." What I noticed immediately were all the rows of overstuffed bookshelves, which I soon began perusing. And they were not filled with fluff. There were serious books everywhere, in philosophy, theology, biblical studies, and history, by authors as far ranging as F. F. Bruce, Paul Tillich, Alvin Plantinga, St. Thomas Aquinas, Bruce Metzger, Avery Dulles, S. J., and Karl Barth.
Before my roaming eyes could catch their breath, Bob walked up to me and pointed to a book on the shelf —The Only Wise God by William Lane Craig—and asked in that fast, pointed, inquisitive, and slightly whiny, voice that many of us grew to love (think Joe Pesci in "My Cousin Vinny"): "Hey, Frank, what do you think about Middle Knowledge?" (Middle Knowledge is the view of divine providence and human free will defended by Craig in his book, though originally presented in the 16th century by Luis de Molina).
As I began to give my measured answer, Bob interrupted, "I'm not sure it works, since, well, counterfactuals probably don't have any actual referent, though it is an interesting theory. It's surely better than Calvinism." At that point, before Bob completed his third thought in five seconds, Gretchen, in her gentle though firm voice (think Donna Reed meets Kathy Bates), intervened, "Bob, why don't you and Frank sit on the couch and talk there. I think everyone wants to hear what you guys are discussing." In a few moments we were off and running.
By the end of the evening—which was about 1 am—I had experienced the Full Passantino: Twisting, turning, invigorating and intellectually stimulating sets of overlapping and intersecting conversations with two very smart people on a variety of philosophical, theological, biblical, and political topics, about which they had read and studied far more than I had. They often finished each other's sentences, with Gretchen sometimes translating for this "Bob impaired" listener who couldn't keep up with him.
I was two years out of my PhD at Fordham, and I felt like I knew nothing after that evening. Neither Bob nor Gretchen had any formal training in any of these academic areas that occupied our conversations, and yet their depth and breadth of knowledge was truly astonishing, and all without a wit of pride or pretentiousness. Perhaps this is why they worked behind the scenes for decades as trusted researchers, ghostwriters, editors, consultants, and debate coaches for some of the most well known Evangelical speakers and authors in the world. They were, in the words of Bob Dylan, "the brains behind Pa."
November 2003, at the age of 52, Bob died of a massive heart attack. In 2005, Gretchen married Pat Coburn, a man she had met when she was 14 and he was 20, though they had not been in contact with each other from the time Gretchen was a teenager until after Bob's death. In 2012, Pat suffered a full cardiac arrest. Although the doctors resuscitated him, he had to undergo months of expensive rehabilitation. Gretchen cared for Pat throughout the entire ordeal, exhibiting a quality of soul that surpassed her quality of mind, which, given the impressiveness of the latter, did not seem possible.
As if to send us a message to confirm this judgment, the Lord saw fit to take Gretchen from this mortal realm on October 2, the Feast of the Guardian Angels. So, to my dear Gretchen, "May the angels lead you into Paradise; May the martyrs receive you at your coming, And take you to Jerusalem, the holy city. May the choir of angels be there to welcome you. And may you, with the once poor Lazarus, have everlasting rest." (from the Rite of Burial for Adults)