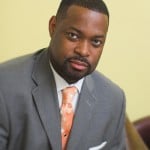 Fredrick D. Robinson is a social justice writer and advocate living in Charlotte, NC. A Board Member of the Charlotte Clergy Coalition for Justice, he earned his Master of Arts degree in Religion (MAR) with a concentration in Christian Thought from Gordon Conwell Theological Seminary. He is also a 2014 Fellow of the Black Theology and Leadership Institute at Princeton Theological Seminary.
A former pastor and accomplished journalist, Fredrick has over 20 years of experience as an editor and writer where he has covered the following issues: Faith and values, the family, the black church, state and local taxes, the criminal justice system, education, politics, and welfare reform. He has been published in numerous newspapers and publications, including
CNN Religious Blog
,
Black Enterprise
,
The Chicago Tribune, Atlanta Constitution, The Los Angeles Times, Black and Brown News,
and others
.