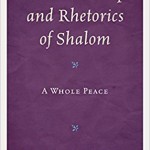 The R3 book series is pleased to announce the publication of Women Bishops and the Rhetorics of Shalom by Leland Spencer. The Southern States Communication Association recently named Dr. Spencer the Janice Hocker Rushing Early Career Research Award winner. Pre-order your copy today! 
Women Bishops and Rhetorics of Shalom: A Whole Peace argues that the theological concept of shalom offers a way forward for progressive Christians who want to advocate for social justice based on their faith in an increasingly globalizing world characterized by many faiths. To do so, the book considers the rhetorical leadership of three women bishops who are all "firsts" in important ways: Marjorie Matthews, the first woman bishop in any mainline Post-Reformation church, Leontine Kelly, the first woman bishop of color in any mainline church, and Katharine Jefferts Schori, the first woman to lead a national church in the Anglican Communion. This book is recommended for scholars interested in communications, religious studies, and gender studies.
Praise for the book:
Spencer's compelling, nuanced analysis of women bishops' rhetoric offers keen and timely insights about intersections of gender, power, religion, and politics. Yet it is his articulation of shalom as a model for peaceful community that takes my breath away—Spencer's vision offers hope, guidance, and a call for social and political transformation based on the eloquent words of trailblazing women of God. A must-read for scholars and students in rhetoric, women's and gender studies, and social change! (Laura L. Ellingson, Santa Clara University)
Women Bishops and Rhetorics of Shalom: A Whole Peace locates an intrepid "shalom," in the sermons of three ground-breaking (and ground-making) bishops in the Christian Church…Spencer reveals how each woman navigates the waters in her singular manner, embodying and advancing a courageous shalom, co-constructed by persons from all religious backgrounds—and from none—as a vision of active and fully inclusive peace, across religious, racial, ethnic, gender, and all lines that would divide us. (Elizabeth Nelson, University of Minnesota, Duluth)
Leland G. Spencer invites readers along a path that is at once scholarly and transformational. The feminist rhetorical analysis offered in this study of the language of pioneering women bishops is skillful, integrated, and expansive. Professor Spencer's re-visioning of the concept of shalom as it uniquely unfolds in their sermons calls forth the strength and hope of shared values in a world that far too frequently battens down the hatches against difference. Each chapter reminds the reader, through compelling display of Spencer's intellect as he considers the words of the bishops, that feminist scholarship is as propelled by deep desire for learning as it is for social change. The goodness and grace of Professor Spencer's message, culled from the sermons of the bishops, is not to be missed, either by seasoned or aspiring language and communication scholars. (
Carol L. Winkelmann, Xavier University
)
*If you are seeking a publisher for your book, see our call for proposals.
About the book author:
Leland G. Spencer (PhD, University of Georgia, 2013) is assistant professor in the Department of Interdisciplinary and Communication Studies at Miami University in Hamilton, OH and an affiliate faculty member in the Women's, Gender, and Sexuality Studies Program and the Department of Media, Journalism, and Film. 
Donate to the Work of R3
Like the work we do at Rhetoric Race and Religion? Please consider helping us continue to do this work. All donations are tax-deductible through Gifts of Life Ministries/G'Life Outreach, a 501(c)(3) tax exempt organization, and our fiscal sponsor. Any donation helps. Just click here to support our work.