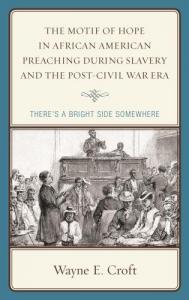 The R3 book series is pleased to announce the publication of The Motif of Hope in African American Preaching during Slavery and the Post-Civil War Era: There's a Bright Side Somewhere by Wayne Croft. Pre-order your copy today!
About the Book:
The Motif of Hope in African American Preaching during Slavery and the Post-Civil War Era: There's a Bright Side Somewhere explores the use of the motif of hope within African American preaching during slavery (1803–1865) and the post-Civil War era (1865–1896). It discusses the presentation of the motif of hope in African American preaching from an historical perspective and how this motif changed while in some instances remained the same with the changing of its historical context. Furthermore, this discussion illuminates a reality that hope has been a theme of importance and often has been neglected in African American preaching.
Praise for the Book:
African American poets, playwrights, protest leaders, and music producers have all addressed the need for and sometimes the absence of hope among African Americans from one generation to the next. In this new book Wayne Croft documents the ways by which African American preachers and religious scholars have added their voices and their energies to the search for hope during the dark days of slavery and the decades that followed. Thank God for those preachers who sought hope in options that ranged from escaping from slavery to slave rebellions, and from seeking hope in this world to looking with hope to the life beyond death. Croft brings to life the words associated with Jesse Jackson that the preacher's job was and is to "keep hope alive."— Marvin A. McMickle, Colgate Rochester Crozer Divinity School
We live in a world where hope is in high demand and where it is often missing. In this book, Dr. Wayne Croft mines African American history to bring hope to the forefront for preachers and readers by examining the motif of hope in black scholarship and preaching. A great addition to your library and for your preaching.— Karyn Wiseman, Lutheran Theological Seminary at Philadelphia
It has long been a trope of African American theological history that while slave religion focused on liberation, the post-Civil War Black Church focused on getting to heaven. Croft brings much needed nuance to the study of these periods by demonstrating that African American preachers in both proclaimed hope for life in this world and the next. Indeed, the nineteenth century homiletical case studies Croft examines serve as a model for preachers offering hearers a "bright side" today.— O. Wesley Allen, Southern Methodist University
*If you are seeking a publisher for your book, see our call for proposals.
About the book author:
Wayne E. Croft, Sr., (PhD, Drew University, 2009) serves as the Jeremiah A. Wright, Sr. Associate Professor of Homiletics and Liturgics in African American Studies at the Lutheran Theological Seminary at Philadelphia. He is also Senior Pastor of the St. Paul's Baptist Church in West Chester, Pennsylvania. Prior to this assignment, Dr. Croft served The Church of the Redeemer Baptist in Philadelphia for a total of 20 years. Dr. Croft is the founder of the Redeemer Renaissance Community Development Corporation, a life member of the Kappa Alpha Psi Fraternity, Inc., and has been inducted into the Martin Luther King, Jr. Board of Preachers of Morehouse College in Atlanta, Georgia.
Donate to the Work of R3
Like the work we do at Rhetoric Race and Religion? Please consider helping us continue to do this work. All donations are tax-deductible through Gifts of Life Ministries/G'Life Outreach, a 501(c)(3) tax exempt organization, and our fiscal sponsor. Any donation helps. Just click here to support our work.