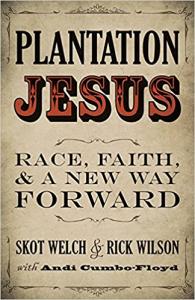 Not long ago, most white American Christians believed that Jesus blessed slavery. God wasn't bothered by Jim Crow. Baby Jesus had white skin. Meet Plantation Jesus: a god who is comfortable with bigotry, and an idol that distorts the message of the real Savior. That false image of God is dead, right? Wrong, argue the authors of Plantation Jesus, an authoritative new book on one of the most urgent issues of our day. Through their shared passion for Jesus Christ and with an unblinking look at history, church, and pop culture, authors Skot Welch and Rick Wilson detail the manifold ways that racism damages the church's witness. Together Welch and Wilson take on common responses by white Christians to racial injustice, such as "I never owned a slave," "I don't see color"; only people and "We just need to get over it and move on." Together they call out the church's denials, dodges, and evasions of race. They invite readers to encounter the Christ of the disenfranchised. With practical resources and Spirit-filled stories, Plantation Jesus nudges readers to learn the history, acknowledge the injury, and face the truth. Only then can the church lead the way toward true reconciliation. Only then can the legacy of Plantation Jesus be replaced with the true way of Jesus.
Praise for the Book:
America is in deep trouble. White supremacy should not be the guiding principle of an enlightened society, and people of faith need to be at the forefront of changing the paradigm, just as they were during the periods of abolition and civil rights activism. The only way to transcend the past is to confront it honestly, and Plantation Jesus is a powerful guide for doing just that.-Sharon Leslie Morgan, coauthor of Gather at the Table and founder of Our Black Ancestry
About the Authors:
Skot Welch is the principal/founder of Global Bridgebuilders, a firm focusing on cultural transformation and inclusion that serves a wide range of clients in the U.S. and in more than seven countries. Welch has worked in international business and diversity and inclusion management for nearly twenty years.
Rick Wilson was an Emmy-winning producer and writer in print and broadcast media. He was co-host, with Skot Welch, of the popular radio program Radio in Black and White, which covered topics related to race, ethnicity, and cultural competence. Wilson died in 2014.
Andi Cumbo-Floyd is a writer, editor, and writing coach whose books including The Slaves Have Names, a book of creative nonfiction that tells the story of the people who were enslaved on the plantation that she calls home. She and her husband Philip run a small farm in central Virginia.
Donate to the Work of R3
Like the work we do at Rhetoric Race and Religion? Please consider helping us continue to do this work. All donations are tax-deductible through Gifts of Life Ministries/G'Life Outreach, a 501 (3) tax-exempt organization, and our fiscal sponsor. Any donation helps. Just click 
here
 to support our work.