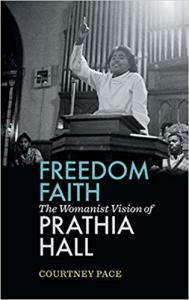 Courtney Pace, Freedom Faith: The Womanist Vision of Prathia Hall, (Athens: University of Georgia Press, 2019). ISBN: 9780820355061.
Freedom Faith is the first full-length critical study of Rev. Dr. Prathia Laura Ann Hall (1940–2002), an undersung leader in both the civil rights movement and African American theology. Freedom faith was the central concept of Hall's theology: the belief that God created humans to be free and assists and equips those who work for freedom. Hall rooted her work simultaneously in social justice, Christian practice, and womanist thought.
Courtney Pace examines Hall's life and philosophy, particularly through the lens of her civil rights activism, her teaching career, and her ministry as a womanist preacher. Moving along the trajectory of Hall's life and civic service, Freedom Faith focuses on her intellectual and theological development and her radiating influence on such figures as Dr. Martin Luther King Jr., Marian Wright Edelman, and the early generations of womanist scholars. Hall was one of the first women ordained in the American Baptist Churches, USA, was the pastor of Mt. Sharon Baptist Church in Philadelphia, and in later life joined the faculty at the Boston University School of Theology as the Martin Luther King Chair in Social Ethics. In activism and ministry, Hall was a pioneer, fusing womanist thought with Christian ethics and visions of social justice.
Courtney Pace is an associate professor of church history at Memphis Theological Seminary.