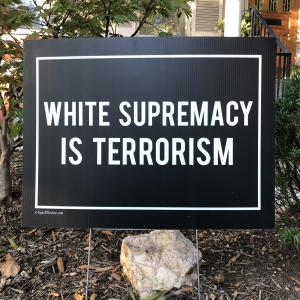 Below is a special issue on "White Supremacy in the Age of Trump" in the Journal of Contemporary Rhetoric (JCR).
From the Journal:
The Journal of Contemporary Rhetoric (JCR) is a peer-reviewed publication that publishes original scholarship that that promotes critical engagement with rhetorical dimensions of current events (those of the past 18 months or so). In promoting the practice of public intellectualism, JCR offers an outlet for scholarship that is both intellectually rigorous and accessible to lay audiences. To this end, JCR specifically seeks to publish scholarship that evidences how rhetorical criticism and theory can help promote a more informed public that is better able to take part in a democratic society. Essays in JCR add to public discussions of current events and help the general public understand more fully the critical and theoretical underpinnings of public debates and controversies, political discourse, social movements, and media events.
JCR is primarily an outlet for works of rhetorical criticism and theory. We are open to other related methodologies and perspectives under the broad purview of rhetoric.
All manuscripts submitted for publication consideration must be original work that has not been published previously and is not currently under review by any other publication outlet.
Volume 8, Issue 1/2
White Supremacy in the Age of Trump: An Introduction to a Special Issue of the Journal of Contemporary Rhetoric
George F. McHendry, Jr.
This essay introduces a special issue of the Journal of Contemporary Rhetoric on White Supremacy in the age of Trump. This essay recounts an abbreviated history of racism in the United States of America and myriad instances where white supremacy was a vibrant part of Donald J. Trump's rise to political power. These events demonstrate that racial animus is both a cornerstone of American history and contemporary politics.
Keywords: Donald Trump, White Supremacy, Alt-Right
Alt-White: Conceptualizing the "Alt-Right" as a Rhetorical Bridge between White Nationalism and Mainstream Public Discourse
Stephanie L. Hartzell
Contemporary scholarship on race from critical rhetorical perspectives has revealed the dominance of a color-blind racial ideology and its accompanying norms of race-evasive discourse in the post-1960's United States. In the "Age of Trumpism," however, there has been a marked resurgence of explicitly pro-white rhetoric and a rise in public displays of various formations of white supremacy, including the emergence of a loose group of disgruntled pro-white, far-right reactionaries who have strategically adopted the label of "alt-right." To help make sense of articulations among "alt-right," far-right, and pro-white ideologies in the Trump-era, this essay investigates the emergence and early evolution of the "alt-right" to reveal how appeals to intellectualism and political correctness have been deployed to make space for overtly pro-white rhetoric in mainstream U.S. American public discourse. Along the way, I reveal (dis)connections among contemporary formations of pro-white ideologies to illuminate strategic constructions of rhetorical distance between these formations and white supremacy. Ultimately, I argue that "alt-right" rhetoric is positioned as a rhetorical bridge between white nationalism and mainstream public discourse.
Keywords: Alt-Right, white nationalism, white supremacy, whiteness, critical rhetoric
Hello Darkness: Antisemitism and Rhetorical Silence in the "Trump Era"
Jamie Moshin
This essay investigates the simultaneously loud and silent rhetorics of antisemitism that have proliferated leading up to, and since the inception of, the Donald Trump presidency. How is it possible that discourse that seems so obvious, and so antithetical to US ideals, has managed to go either unnoticed or unremarked upon, or has been met with passionate support? The answers to this lie in the difficulty in ascribing authorial intent to silence, in the nebulous space of liminal Whiteness occupied by American Jews, and in Trump's usage of five strategic rhetorical silences that signify antisemitism: literal; symbolic; dialogic; paraliptic; and dog-whistled. The essay concludes by discussing how the Trump campaign/Cabinet's attempts to capitalize on White dispossession and utilization of "the radical flank" is helping both to normalize his antisemitic followers and to add to his appeal.
Keywords: Jewishness, Antisemitism, Donald Trump, Rhetorical Silence, Dog-whistle
Trump, the KKK, and the Versatility of White Supremacy Rhetoric
James Chase Sanchez
This article theorizes the use of rhetorical versatility as a language tool for white supremacists in the age of Donald Trump, specifically referring to the ways Trump and the KKK speak to their various audiences through textual winks and polysemy. After demonstrating the recent rise of white supremacist groups in this country, rhetorical versatility is explored as way for rhetors to camouflage and signal their ideological viewpoints, which ultimately leads to an analysis of key terms and ideas that both the KKK and Trump utilize in the public sphere: "patriotism," "heritage," and "security." Diving into the specific uses of these terms, this article pinpoints the textual winks that have constructed a civic version of white supremacy over the last few years. Ultimately, this analysis not only builds a theory of rhetorical versatility but also argues that we need more scholarship on the tacit forms of white supremacy.
Keywords: white supremacy, Donald Trump, KKK, rhetorical versatility, textual winks, rhetorical climates
President Trump and Charlottesville: Uncivil Mourning and White Supremacy
Samuel Perry
This essay examines President Donald Trump's responses to the tragic events in Charlottesville that took place on August 10 and 11 of 2017. It argues that Trump failed to fulfill his role as mourner-in-chief because he engaged in "uncivil mourning." The essay establishes a theoretical framework for understanding mourning and then examines the three responses Trump gave after Heather Heyer was killed and others were injured by a white supremacist. It argues that rather than mourning Heyer or the values of protestors who confronted "Unite the Right" rally participants, Trump mourned the cultural erosion of whiteness. This follows a pattern well established in Trump's speeches and tweets.
Keywords: White supremacy, Mourning, Presidential rhetoric, Donald Trump
"Not White/Not Quite": Racial/Ethnic Hybridity and the Rhetoric of the "Muslim Ban"
During the turmoil surrounding Executive Orders 13769 and 13780, colloquially known as President Donald Trump's "Muslim bans," discourse turned to who "counted" as someone allowed in the U.S. In this essay, I conduct a critical rhetorical analysis of tweets about the Muslim ban, using a theoretical framework of hybridity, in order to examine how hybridity was, and is, used to rhetorically position people as "acceptable" or "unacceptable" within the rubric of the law and the Muslim ban more specifically. I argue that hybridity is rhetorically articulated as malleable in order to suit the goals of white supremacy; race/ethnicity, religion, and nationality are both conflated and separated depending upon the specific goals and arguments put forth. Thus, racial/ethnic/religious/national identity is seen as both fluid and fixed, but all in service of shoring up discourses of whiteness and white supremacy.
Keywords: white supremacy, Muslim ban, Trump, whiteness, racial/ethnic hybridity
Trump's Warsaw Address, or How the "West" Was Widened
In his first major address in Europe, President Donald J. Trump relies upon visual and historical scenic elements to argue for battle in a clash of civilizations. In so doing, he broadens the notion of the "West," which relies upon a purified perspective, one whitened and Christian. Using Burkeian rhetorical theory, this essay explores the War-saw address for its scenic development of identity as the location for this symbolic battle with material consequences. The address engages in a victimage ritual that united an oppositional interpretation of the physical locale, traces of President Kennedy's Berlin Address, and retells parts of Polish history to support Poland's right-wing government's anti-immigrant and nationalist policies. Notable as well for its absences, the address fails to bolster democratic principles like the rule of law or the independence of a judiciary and instead amplifies white supremacist rhetoric.
Keywords:Trump, Poland, West, scene, agency, victimage ritual, clash of civilization, white supremacy
How People Make Sense of Trump and Why It Matters for Racial Justice
Scholars, journalists, pundits and others have criticized the racist, anti-queer, anti-Semitic, Islamophobic, and xenophobic rhetoric that pervades the Trump campaign and presidency. At the same time, commentators have expended a vast number of words analyzing Trump's character: why does he do the things he does? We ask, how do the latter (analyses of Trump's character) help explain the former (Trump's racist statements)? Through a close rhetorical analysis of 50 diverse examples of Trump criticism, we reveal four prevailing characterizations or "archetypes" of Trump: Trump the Acclaim-Seeker, Trump the Sick Man, Trump the Authoritarian, and Trump the Idiot. Each archetype explains Trump's racism in a different way, with significant consequences for social critique. For example, the Trump the Idiot archetype dismisses his racist statements as a series of terrible gaffes, whereas Trump the Authoritarian explains them as an actualization of white supremacy. We trace the benefits and tradeoffs of each archetype for resisting white supremacy.
Keywords: Donald Trump, white supremacy, identity, rhetoric, archetypes
Donate to the Work of R3
Like the work we do at Rhetoric Race and Religion? Please consider helping us continue to do this work. All donations are tax-deductible through Gifts of Life Ministries/G'Life Outreach, a 501 (3) tax-exempt organization, and our fiscal sponsor. Any donation helps. Just click
here
to support our work.