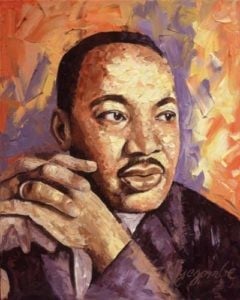 I am pleased to announce the publication of this special issue of the Journal of Contemporary Rhetoric I edited titled "From the Mountain Top and Beyond: Contemporary Meanings and Understandings of the Rhetoric of Martin Luther King Jr., 50 Years Later."
Dislocations and Shutdowns: MLK, BLM and the Rhetoric of Confrontation
Andre E. Johnson
During the last year of King's life, his ability to persuade and to gain a national consensus around issues of war, poverty, economic injustice, and the inequality suffered by blacks and all people of color had waned. Faced with increasing hostility to him and the movement along with the rising white backlash, King knew that moral suasion would not give him the results that he had hoped. This lead King, to launch the Poor People's Campaign as a movement of massive civil disobedience that would lead to economic boycotts and the shutdown entire cities. By doing this, King hoped that the government, sensitive to the dislocation and shutdowns would eventually do the "right thing." I conclude by arguing that BLM whether knowingly or not, have adopted many of the ideas that King argued during the last year of his life becoming the natural extension of King's vision in the last year of his life.
Keywords: Martin Luther King Jr., Social Movements, Black Lives Matter, Protest Rhetoric, African American Public Address
Martin Luther King Jr., W.E.B. Du Bois, and Attitudes Toward Change
Jonathan M. Smith
Antonio de Velasco
There is a less recognized Martin Luther King Jr. who has received limited attention in history books. As King approached the final year of his life, his speeches appeared to evolve in their treatment of progress. One such speech is "Honoring Dr. Du Bois." In this essay, we suggest that "Honoring Dr. Du Bois" provides a platform to partially understand the nature of King's activism during his final year. We argue that the speech characterizes a perspective toward revolutionary change that differs significantly from the King of past years. In King's earlier and most iconic speeches, he often treats change as tangible and achievable; however, in "Honoring Dr. Du Bois," King regards social justice as an ongoing, indefinite journey. Therefore, we argue that rather than characterizing his activism as moving toward a "promised land" as he did in the "I Have a Dream" speech, "Honoring Dr. Du Bois" suggests that King now views progress as perpetual action with no clear-cut destination. Additionally, we argue that "Honoring Dr. Du Bois" provides a lens to examine the types of rhetorical moves King used to establish this evolved perspective. We contend that King employs synecdoche to establish and clarify his attitude. King eulogizes Du Bois while simultaneously adopting Du Bois' activist philosophy and the trajectory of his life. Ultimately, King uses the speech as a rhetorical vehicle to express his current vision of change and progress in 1968. In our conclusion, we explore the presence of King's sustaining influence in the contemporary US.
Keywords: W.E.B Du Bois, Martin Luther King Jr., Synecdoche, Substance, Change.
Children in the Dream: Barack Obama and the Struggle over Martin Luther King's Legacy
David Deifell
The rhetoricity in the relationship between Martin Luther King, Jr.'s "I Have a Dream" speech and the election of Obama reveals hopes and anxieties about contemporary race relations. Examining the connection between an old rhetoric and its new realities, this study elaborates on the implications of popular articulations of Obama's initial election to King's Dream. Drawing on theories of constitutive rhetoric and interpellation, the essay frames King's speech as a constitutive narrative with which we imagine race in America. Beyond its rhetorical situation, the speech continues shaping us as its political subjects, children of the Dream. An analysis of competing characterizations of Obama regarding that subject positioning elaborates on the rhetorical tension that developed into the debate about whether society has become post-racial or not. Perhaps innocent exuberance at first, the King-Obama link lays bare the consequences of positions Americans take in relation to increasingly divergent ideologies about race in America.
Keywords: constitutive rhetoric, post-race, King, Obama, interpellation, narrative, subject position.
"My Living Shall Not Be in Vain": The Rhetorical Power of Eulogies in the Face of Civil Unrest
Melissa Renee Harris
Ashley R. Hall
Rhetoric of eulogies traditionally follow an identifiable epideictic or deliberative form. However, the funeral orator may blend both forms as a hybrid rhetoric based on the life, death, and social conditions at the time of the eulogy. This essay provides a rhetorical analysis of the eulogy of Dr. Martin Luther King Jr. for the young victims of the Sixteenth Street Church Bombing and the eulogy of Barack Obama for Rev. Clementa Pinckney after the massacre at Emanuel AME Church. The authors argue that historically the eulogies for murdered Blacks are socially significant as the rhetor uses purification, association, and unification as rhetorical tools to martyr the decedents and unite the audience in social corrective action. Further, the rhetorical situation is impacted by the need for justification of prematurely and unjustly lost life. There is currently an alarming trend of Blacks being murdered by police and racially charged incidents, often resulting in social upheaval within communities across the country. This analysis provides insight into the resulting eulogies of unjustified Black death and the rhetorical power of the eulogist when addressing communities on the verge of civil unrest.
Keywords: Eulogies, African American rhetoric, Black, hybrid, martyr, justice.
WWMLKD?: Coopting the Rhetorical Legacy of Martin Luther King, Jr. and the Civil Rights Movement
Michelle Kelsey Kearl
Created Equal, an anti-abortion organization based in Ohio, argues it is fulfilling the legacy of the Civil Rights Movement (CRM) by fighting widespread and systemic age discrimination. Putting to work the images, tactics, and rhetorics of the Civil Rights Movement and Dr. Martin Luther King, Jr. (MLK), Created Equal argues abortion enacts ageism and is worthy of formal civil rights protection. I argue that Created Equal leverages the ideographic ethos and pathos of the CRM and MLK to tap into American public memory of the man and the movement, then use them as ciphers in which they invest their own connotative meaning. This appropriation or coopting of the rhetorical legacy of MLK and CRM allows Created Equal to repurpose the past towards contemporary political ends incongruous with King and the movement. I draw implications to broader neoliberal rhetorical practices that appropriate progressive narratives, in both form and content, towards traditionally conservative aims.
Keywords: Martin Luther King, Jr., Civil Rights Movements, abortion, ideograph, cipher.
Donate to the Work of R3
Like the work we do at Rhetoric Race and Religion? Please consider helping us continue to do this work. All donations are tax-deductible through Gifts of Life Ministries/G'Life Outreach, a 501 (3) tax-exempt organization, and our fiscal sponsor. Any donation helps. Just click 
here
 to support our work.