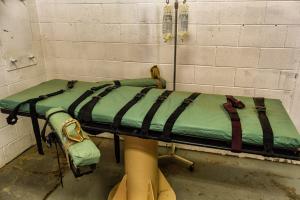 by Michael Walker
How can a nation that claims to be founded on religious freedoms, and that many calls a Christian nation, continue to condone the death penalty?  This is a question that has gone through my head for some time, and I've concluded that capital punishment in our Christian killing nation is less about following the teachings of Jesus (or any single religious leader, for that matter), and more about fear.
Too often the concepts of law and order get thrown into the mix of politics by those who lean more conservatively, especially in recent years and with the support base for the 45th president.  These same supporters also are much more likely to denigrate women and minorities and any who do not follow heteronormative standards.  What is the link? Fear.
Many fundamental Christians continue to think of God as a punishing God, and consider themselves to be the hand of God on Earth as judgments are passed condemning certain defendants to death.  Many Christians use the Old Testament as the basis for the religious-sanctioned killing of another in the name of law and order.
Is it a matter of can we, or should we?
Should we condemn a person to death for a crime against another?  Jesus came not to abolish the law, but to fulfill the law, as the Christ said and many claims as the basis for the same God "yesterday today and tomorrow" and, therefore, the Levitical code should still apply.  Where, then, is the death penalty for adultery?
The truth of the matter is that capital punishment is more about fear than about morality.  The statistics on the matter don't lie – a black person who commits a crime against a white person is much more likely to be sentenced to capital punishment.  In the past 40 years, 20 white people have been executed for killing black people, while 288 black people have been executed for killing white people.  That means a black person convicted of killing a white person is over 14 times more likely to be sentenced to death, than in reverse.
Jesus taught us to love our neighbor, to welcome the stranger, and to turn the other cheek with our enemies.  Jesus taught us about grace and acceptance and forgiveness.  How then are these teachings of Jesus congruous with the systematic penalty of execution for black on white crime?  Regardless of racial issues, the death penalty robs the defendant of the opportunity for redemption in this life.
We are to be a light unto the world, yet the nation in which we live has so much healing and reconciliation still to be done, and we have much to do with a history of systematically persecuting minorities, especially black people, within our own borders.
Be the light.  Speak out.  Stand up.  Defend.  Work within systems where you can to bring about change.  And continue to highlight white privilege and speak it, regardless of white fragility.
Michael Walker is a student at Memphis Theological Seminary and serves in partnership at Heartsong Church in Cordova, TN.  You can find him on twitter @Walker_By_Faith.
Donate to the Work of R3
Like the work, we do at Rhetoric Race and Religion? Please consider helping us continue to do this work. All donations are tax-deductible through Gifts of Life Ministries/G'Life Outreach, a 501(c)(3) tax-exempt organization, and our fiscal sponsor. Any donation helps. Just click here to support our work.