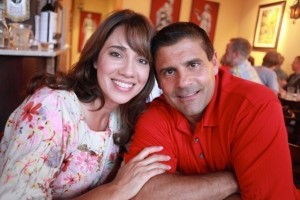 Robert Ricciardelli along with his wife Joyce are the founders of the Converging Zone Network (CZN). Through their blogs, newsletters, and social networking platforms, they bring collaboration to over 100,000 each week in various spheres of society.
They desire to continue to build that infrastructure that gives people the opportunity to purposely connect, relate, and learn from each other.
Robert has been described as "a catalyst for inspiration, transformation, and healing." Robert inspired thousands of clients and associates in his 25 years of business-to-business sales and marketing with Fortune 500 companies. Because of his expanded world-view of the Kingdom of God in everyday life, Robert was empowered to bring successful solutions to every business he engaged with."He sees every client as a true friend, and the speed of trust in His relationships are supernatural." As a Transformational Life and Executive coach, consultant, and trainer, "Robert is able to relationally and strategically coach people towards authentic significance and success."
Robert delivers transformational messages of God's love, community convergence, and maximized living through the wholeness of body, soul and spirit. Audiences appreciate Robert's powerfully practical and relevant approaches to life.
The Ricciardelli's reside in Seattle, WA, and travel extensively. Robert grew up in Seattle, WA to Italian immigrant parents and Joyce is from Missouri. They have two sons Anthony and Aaron, both residing in Seattle. They are grandparents to Aleksandra, Anthony's daughter.
Robert speaks at churches and conferences regarding the Kingdom of God and practical ways to advance His Kingdom into every sphere and mountain of society. His coaching continues to bring solutions that advance the destinies of individuals and businesses.
Robert and Joyce are certified Biblical Life and Life Breakthrough Coaches and trainers, and Transformational Life Coaches through Lifeforming Coach Training.