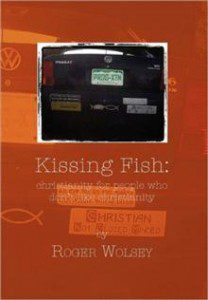 Christianity receives a lot of attention in the media, but the most frequently discussed version represents a type of Christianity that sometimes turns people away from the Church. Kissing Fish presents a postmodern systematic theology of Progressive Christianity, a growing movement that reclaims the radical message of the Gospel. This informative, contemplative, and entertaining book will guide you through the beliefs that inspire us to love one another in the transformative way that Jesus proclaimed, including practices that will take your faith to a new level.
Kissing Fish is a scholarly yet thoroughly accessible introduction to Progressive Christianity. While the intended target audience for this work would seem to be those who have either left the Christian faith or never adopted it at all; the work is filled with pearls of wisdom for all of us, whether associated with Christianity or not. Kissing Fish is a truly remarkable work, serving both as a reminder of the beauty and grace that form the central tenets of the faith, while offering a graceful yet prophetic rebuttal to its more exclusionary tendencies.
— Roger McClellan, Progressive Christian Alliance.