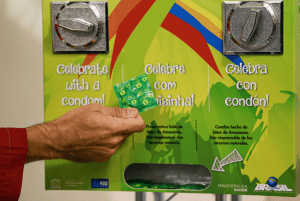 A few days ago, USA Today boasted the provocative headline: "Plenty of action at Rio Olympics, which is why there are 450,000 condoms." The article went on to report that this year's amount–equivalent to 42 per athlete and about 2 per day—has grown dramatically since 1988, when 8,500 condoms were provided. Also, the condoms are being distributed for free via vending machines that encourage the athletes to "celebrate with a condom." Alas, it seems that the Olympic Games are proudly becoming the "Caligula Games."
Now, I know that some folks might just view the "condom-nation" that the Olympics Village has become solely through the lens of public health. And I certainly get that. But why make a news event out of the number of condoms being distributed? After all, there are large quantities of lots of things being distributed to the athletes. Moreover, Olympic athletes are the most disciplined folks on the planet. So, it's pretty hard for me to believe that they can't handle the task of providing their own contraception.
You see, this matters because the Olympics Games are not just a sporting event. The Games are also an important cultural event that seeks to promote a worldview and a model for how we should treat and value each other. For example, check out the International Olympic Committee's (IOC) credo:
OLYMPISM IS A PHILOSOPHY OF LIFE, EXALTING AND COMBINING IN A BALANCED WHOLE THE QUALITIES OF BODY, WILL AND MIND. BLENDING SPORT WITH CULTURE AND EDUCATION, OLYMPISM SEEKS TO CREATE A WAY OF LIFE BASED ON THE JOY FOUND IN EFFORT, THE EDUCATIONAL VALUE OF GOOD EXAMPLE AND RESPECT FOR UNIVERSAL FUNDAMENTAL ETHICAL PRINCIPLES.
Given the above, I have a number of concerns about the unintended consequences of the Olympics growing condom distribution initiative.
First, the Olympics are adding further credence to the cultural notion that sex—the most intimate of human connections—can be (and should be) considered much like competitive sport. (Of note, the condom packaging includes the Olympic Games motto: Faster, Higher, Stronger) When this happens, the physical aspect of sex is stripped bare from its emotional, relational, and spiritual context. A gift from God, which was given to seal a life long covenant commitment, is cheapened and becomes just another consumer transaction. Indeed, it is ironically appropriate that the condoms are being distributed through vending machines like a Coke or Pepsi.
Click CONTINUE to read the next three reasons: