The Missouri River stretches across Missouri more or less parallel to Interstate 70. Highway and river intersect in many places as both amble across the state through a band of thirteen or seventeen connected counties (depending on how tourist guides count them), once called Little Dixie.
Little Dixie really begins in the west at Kansas City, where the Kansas River meets the Missouri. From there, it turns east toward St. Louis where the Missouri meets the Mississippi.
Early settlers, attracted by cheap land offered in the Land Act of 1820, came up from the Upper South (Kentucky, Tennessee, Virginia) to make Missouri their home. They brought their social customs, agricultural skills, and they brought their slaves. Missouri joined the Union as a slave state in 1821.
By 1860 Missouri held 114,900 slaves; they were less than 10 percent of the state's population. But the highest slave concentrations were found in Little Dixie. In some counties slaves made up a quarter to a third of the population.
Little Dixie also had a disproportionate number of post-Civil War racially-motivated lynchings between 1877 and 1950. Many of the victims are known by name; some are recorded only as "Unknown Negro." Missouri itself had the second highest number of lynchings outside the Deep South; 60 of record, many of no record. Half of all lynchings occurred Little Dixie.
One can see a rough if not direct correlation between high African-American populations and the number of post-Civil War lynchings committed against blacks.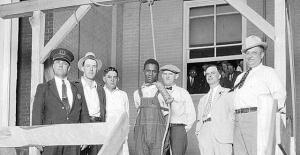 We are never quite rid of our history, even as it hides from our immediate awareness. History shadows us, forms us in ways we do not always recognize, dodging between the "then" to the "now."
This is the "now." Little Dixie's high number of slaves, and the equally lopsided numbers of lynchings, finds correlation with the top-heavy number of death sentences handed out by Missouri courts in Little Dixie counties. The history of slavery, lynchings, and the death penalty all related.
A report puts it succinctly:
"… lynching reinforced a narrative of racial difference and a legacy of racial inequality that is readily apparent in our criminal justice system today."
An acquaintance calls the Missouri River corridor "death row."
Along with higher death penalty sentences, Little Dixie has also produced the highest number of Missouri exonerees; persons sentenced to death but who later had their convictions overturned. The number is four, all from Little Dixie.
The reason they were convicted is also the reason for their exoneration. None had adequate legal representation. Court appointed defense attorneys are required to have five years criminal defense experience; that doesn't always happen.
Additionally, prosecutors committed misfeasance or deliberate misconduct in suppressing or withholding exculpatory evidence from the defense. In the absence of physical evidence, prosecutors suborned (no other description I can think of) testimony, relying on jail house snitches. Cases against black men were argued before all white juries. One of those juries spent 45 minutes in deliberation before returning a conviction and then, as the prosecutor wanted, rendering a death sentence.
I attended a presentation by two of the latest Missouri death penalty exonerees two years ago. Sponsored by Missourians for Alternatives to the Death Penalty, the program was simply two guys telling their stories: Reggie Griffin was released 2013, 24 years on death row; and Joseph Amrine, released 2003, 17 years on death row.
Both were initially serving time for other non-violent offenses. Both were accused of prison yard murders. Neither was confronted with physical evidence. The prosecutions relied on inmates as witnesses. In both cases, the prosecutors withheld evidence. There is not one exonerated death row inmate who could not relate nearly the same tail.
Nationally, as of 2017, 161 death row inmates have been exonerated in the United States. They were pardoned, acquitted in new trials, or had the charges dismissed. They collectively spent an average 11 years on death row before exoneration. Prosecutorial or police error or both (rarely are there consequences for either) is a clear factor in each of the four Missouri exonerations and in others, whether of capital cases or not.
Misconduct in the legal system undermines our respect for the law, subverts justice, and most egregiously, it means with absolute statistical certainty, innocent persons have been executed in the past and will be in the future.
We rely on what is called proximate justice. Our justice system tries to do real justice, but we have no true way of getting there. Proximate justice is always imperfect justice, but we recognize that some justice is better than no justice at all. Proximate justice means saying, we need justice, but only some justice is the best we can do. Sometimes, even that isn't the best.
The risk of one innocent man being executed argues for the abolishment of the death penalty, a limitation on our justice which is, at best, merely proximate.
Russell E. Saltzman publishes every Tuesday and Thursday at noon Central Time. He can be reached on Twitter as @RESaltzman, on Facebook as Russ Saltzman, and by email: russell.e.saltzman@gmail.com
An earlier version of this article has appeared at Aleteia, and at the Catholic Key, the newspaper of the Kansas City-St. Joseph diocese.