I still remember setting aside the empty paper towel roll for Hattie's gerbil. Hattie was my then 13-year-old daughter, now headed to 22, and I was under oft-repeated instructions to save the cardboard tube. The little creature enjoyed running through the tube before settling down to chew it up into more bedding. Should you wonder – and I can't think why you would – we could figure about 20 minutes for the tube from a bathroom tissue roll and maybe 45 and a little for an empty roll from paper towels. Um, yes; she had it timed. She was scientific that way.
I still feel a wistfulness to this day, changing paper towel rolls. Was the girl 6 or 7 when we went to the pet store for her first gerbil? I can't remember. She at 13 when it died, that gerbil was her last.
My seven kids tended snakes, lizards, guinea pigs, gerbils galore, a wounded pigeon, an orphaned swallow and an orphaned robin; mice, and crickets, and a tiger salamander (which was fond of crickets). There are no more animals tended by children at my house. That is a grief.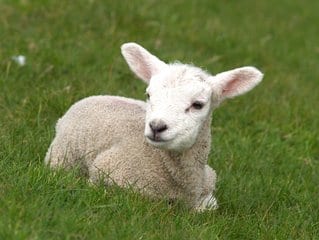 My parishioner Andrea was just seventeen when she was diagnosed with ovarian cancer. There followed surgery and a round of chemotherapy and by the last spring of her life, enjoying a remission lengthening into fall, she was a picture of health. Raised in a farm family she could drive a tractor, plow a field, and cuss at cattle.
She bought some early spring lambs, thinking to feed them up and sell them to help pay for the college loans we were all hoping she would owe. She died, age eighteen verging on nineteen, with the lambs but half grown. Her parents sold them some short while after. Her mother told me selling those lambs, watching them go away in that truck as the silence of their bleating settled over the farm, was as hard as the funeral, probably harder.
"I guess," the fellow told me, "I'll be selling The Boat, maybe by April." That's how he said it, The Boat. It wasn't much, just an old aluminum fishing boat with an outboard sitting on a trailer next to his garage. But The Boat, the name set out in adhesive letters on both sides of the bow, is where he lived in good fishing weather. It had not been moved in a good six months. The cancer grinding at him was nearly finished.
He did not talk about his death, not directly, and never had, not with me. "That's gotta be a sad thing to think about," I said. "Aw, in a way, I guess," he started. "But then, it never was worth much and, really, I know it was often a bother, especially for the wife." He wasn't talking about The Boat anymore.
Time, I thought, to talk of falling sparrows. "If He watches over sparrows, He's got an eye out for you, I'd suppose, whether that boat gets sold or not."
"You may be right," is all he said, that day.
We call the central act of Ash Wednesday the Imposition of Ashes, don't we? I used clove oil once, by mistake. Who knew it did a crazy burn that could leave a mark deeper than ashes? But maybe the ashes should burn a little and leave a mark – no pain, no gain, they say; no cross, no crown.
Death intrusively imposes itself upon us, sometimes in the oddest ways, with aged gerbils and sheep disappearing down the road and a boat that will never sail again.
"Remember," someone will say tomorrow, "you are dust and to dust you shall return."
Do we really need reminding? "Change and decay around is all I see," intones an old hymn not in the Gather third edition hymnal. But there are other hymns, no doubt, to say the same chastening thing.
Yet for all the losses we endure from life until we have lost life itself there yet is this plea which is our hope: "Bring us with all your saints to the joy of Christ's resurrection."
Russell E. Saltzman publishes every Tuesday and Thursday usually by noon Central Time. He can be reached on Twitter as @RESaltzman, on Facebook as Russ Saltzman, and by email: russell.e.saltzman@gmail.com.