Three years ago, while writing at Vox Nova, I noted the fierce anti-Catholicism of Tim Tebow's father, Bob Tebow, especially in his mission to the predominantly Roman Catholic Philippines. I concluded that post leaving the question of Tim Tebow's personal sentiments about Catholics open.
Today I might have found an answer in the form of Tebow's girlfriend, Camilla Belle: a Brazilian-American actress raised in a devout Catholic home.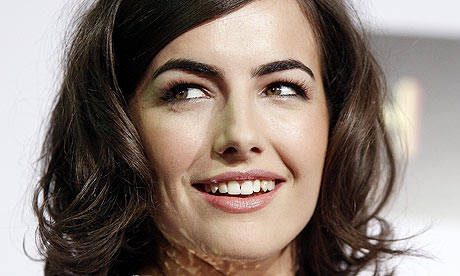 At the time of my original post, Tebow was a college quarterback and my antipathy for him was all about football. He was winning while my teams were not. Simple. When he arrived to the NFL, I was skeptical but curious. Last year's wild early-playoff ride with the Broncos was really something though. I found myself rooting for him with gusto. I noted then, in a follow-up, that it makes sense to root against someone who thinks you're damned to hell. But, again, my fascination with him was as a football player; although I could understand others not liking him for different, soteriological reasons.
Like or dislike him, Tim Tebow is an enigmatic athlete, long before his religious views come into play. Furthermore, those who watch sports regularly know that — as I noted before the Notre Dame vs. BYU game — the rituals of sporting events are already deeply religious on their own. But let's also be fair: there are countless athletes — especially Latino baseball and Black football and basketball players — who are very outspoken about their faith. The sign of the Cross is an ordinary thing to see. "I just wanna give God all the glory" or "First I want to thank my Lord and Savior, Jesus Christ" abound in interviews after big wins. Roman Catholicism and the Black Church are very well represented across the spectrum of sport cultures.
Tim Tebow, some might argue, takes religious outspokenness to a different dimension, but this has also been caused by the fact that everyone asks him about it. All the time. Constantly. Relative to his own ethno-religious culture, he is actually a vocal minority on the subject within sports culture.
I don't have general answers to give on that subject, but I am again fascinated with Tebow this time for reason unrelated to a pigskin. How will a White Southern Baptist get along with a Catholic Latina? Are they doomed? Will Bob approve? With Tebow Sr. try to convert her?
Or — and here's my Catholic hope and prayer — will she convert him?
How wonderful would it be to see Tebow married in a Catholic ceremony! Would his family attend?
Tests like these show the truth about religious convictions. When love meets religion, the outcome purifies the result and reveals it's honest face, for better and, many times, for worse. I hope they're not star-crossed lovers and that their relationship will perhaps show Bob Tebow that Jack Chick isn't an authority on the Catholic Church. (In other news, check out this awesome post by that combines profane allusions, Jack Chick, and Dia de los Muertos!)
But let's be honest: the best argument for Tebow becoming a Roman Catholic is that he'll get to genuflect a TON. Tebowing would return to its rightfully Catholic origins.