This past Thursday was the happiest I've been in months.
That's a little weird to say because I didn't have any big adventures or go to any cool concerts. I just got up at 9:00 am and walked to French class in the rain, and it was cold and my socks got wet. Then, I went to the doctor's office and filled out papers and got needles shoved into my veins and stuff.
But, as I mentioned in my last blog post, after my appointment, my doctor gave me a prescription for hope.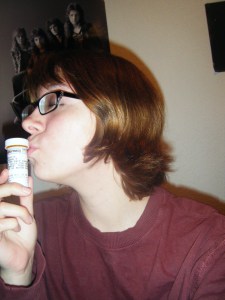 …oh, and also Zoloft.
My doctor was clear that my starting dosage would not have much of an effect on me (I just have to get used to the medicine slowly), and that even the full dosage would take a week or two to make a difference.
But that first half of a pill that I took must have had some kind of crazy placebo effect. Or maybe  my excitement about the fact that someone had actually offered me a realistic solution to my depression sent me into a state of euphoria.
Whatever the cause, for the first time in months, I was truly happy.
Skipping-and-clicking-my-heels-together-instead-of-walking-like-a-normal-person happy.
Pretending-my-life-is-a-musical-and-dancing-on-my-coffee-table happy.
Being-able-to-talk-about-politics-without-getting-angry happy.
Needless to say, despite French class and the rain and having to tear off a band-aid, I enjoyed my Thursday.
But, my happiness had baggage: fear.
As the sun set on my fantastic Thursday, I cuddled on the sofa with Abe and we had this conversation:
*Me: I love how I feel today, but I keep thinking of that play…with the rat, and the big word.
*Abe:
Flowers for Algernon? 
*Me: Yeah, that's the one. This happiness isn't going to last, and what if the medicine doesn't work and I just go back to being just as depressed forever? Only, it will be worse because I'll be able to remember how happy I was today and it will seem like hell in comparison.
*Abe: If this doesn't work, you'll try something else.
*Me: I guess my doctor did say there were plenty of options. She did say that if this didn't work, there were other things I could try….yeah. Yeah. There are other things I can try. Yeah.
At this point, something clicked in my brain and I abruptly ended my conversation with Abe. I ran into the other room to grab my bottle of Zoloft. I swept it into my fingers, stared it right in the face that it didn't have, and had a little chat with it: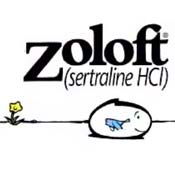 "Listen, Zoloft, I don't need you. I like you. Sure. And I hope we work out. But there are other fish in the sea. That's right. You're not my last chance. My hope for healing doesn't have to begin and end with you. You had better damn well treat me right, or I will dump your ass and find someone new."
I heard Abe chuckling behind me, and I realized that I was talking out-loud to an inanimate object. But I didn't care. I had said what I needed to say.
I have high hopes for Zoloft.
But I don't have to sit and worry about whether or not it will work. Zoloft is not my last chance, because I'm never going to give up. I'm not going to quit pursuing healing.
If it doesn't work, I'll be heart-broken and disappointed, sure. I may get knocked down…
…but I'll get up again….
…You're never gonna bring me down (I couldn't resist).
http://www.youtube.com/watch?v=IhR1bI7ecT8