I don't remember exactly when I first started suffering from depression. It was probably around junior high.
Back then, depression would waltz in and out of my life. It would stick around for a few days or weeks, then it would leave, and it would forget to call, and good riddance!
When I started dating my abusive ex-boyfriend at age 16, depression decided to crash on the futon for a few weeks. Those weeks turned into months…
…and years.
The first two years involved many a prayer to "vending machine Jesus." You know–insert prayer, receive blessings. But it seemed like either my prayers were too wrinkled to be accepted, or my blessings were getting stuck in the dispenser.
Eventually, my Baptist school girl logic came to the conclusion that, "God must freaking hate me." That type of thinking drove me straight into the open arms of self-injury. 
In college, I stopped believing in"vending machine Jesus" when I met real Jesus. When I prayed to real Jesus, he answered my prayers by sticking Bible passages like 2 Corinthians 12:7-10 in my head. That really annoyed me. Sometimes real Jesus seemed like a real jerk to me.
But he loved me more than any vending machine ever could, and so I followed him.
Still, depression lingered, playing World of Warcraft in the basement of my mind.
So I switched my focus. My philosophy became, "Since Jesus isn't a vending machine, and it doesn't look like he's going to fix this problem, I just need to get over it."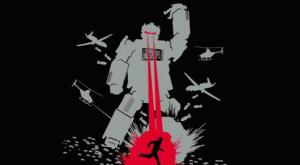 At this point, I imagine depression letting out one of those super-villain laughs and saying (in an Invader ZiM voice for some reason), "Puny human! You really think you can defeat ME?"
But I had a case of good ol' under-dog syndrome, and was certain that I was some kind of unlikely hero that, armed only with courage and maybe some wise advice from a friendly Muppet, could beat the evil over-lord, Depression
I did better than one might expect. I put up a good fight. I even got the upper hand now and then. But about a year ago, depression dealt dealt me a pretty tough blow and left me for dead.
Broken and utterly defeated.
The past eight years of my life, since depression first showed up on my doorstep, have been a struggle. But I can't say the past year has been a struggle because I barely have the energy to get out of bed, let alone fight off an evil overlord.
But yesterday, I finally admitted that I wasn't an unlikely hero in a sci-fi movie. I finally admitted that I am a human. A human with an illness that needs treatment. A human that cannot defeat depression through will-power anymore than a cancer patient can remove tumors using positive thinking.
I finally realized, as Allie Brosh said in a fantastic post that she wrote yesterday, "Trying to use will-power to overcome the apathetic sort of sadness that accompanies depression is like a person with no arms trying to punch themselves until their hands grow back…"
So, I went to the doctor.  I asked for help, and I didn't get pity or judgment in return.
I got solutions.
I'm sure my fight with depression is far from over. But for the first time in years, I remember what hope feels like.
It feels good.