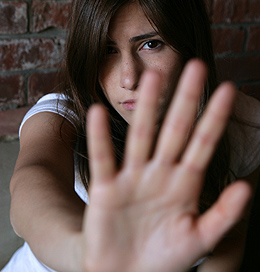 Trigger warnings for sexual assault.
"Once upon a time, there was a girl who was pure, virtuous, an angel in a white dress, and most importantly, a virgin. Then, one day, she met a boy and fell in love. Although the girl was committed to remaining pure, the boy kept pressuring her for more than she was willing to give. Using lies and manipulation, he convinced her to come into his bed. The girl feels dirty and worthless. Her purity gone. But then she begs Jesus for forgiveness from her sin. She no longer has her virginity, but once she is forgiven she can be pure in God's eyes again. "
You've heard this story before. It's far from original. Our society, and especially Christian culture, loves this narrative. It's on sitcoms, and in sermons, and in abstinence-only curriculum. We hear it from our mothers and from our friends. And many of us have lived it.
A recent retelling of this story occurs on the blog of one Cory Copeland, in his post, "Sex and the Good Girl." Now, I don't know Cory, but I'm sure he's not a sexist pig who hates women–that's just it. You don't have to be a sexist pig to tell this story because it's so ingrained in our culture that we don't even notice the problems with it. And I don't write this post to pick on him. I write it because Cory seems to have a handle on language. He retells this tired, old tale in a way that shines new light on it.
But the things that new light reveal are disturbing. Things that have been there, all along, lurking in the dark, that we may have stopped noticing after hearing this story for the 900th time.
I want to talk about some of the problems with this "good-virgin-girl meets bad-manipulative-boy" tale, and I am going to use Cory's piece as a framework for my thoughts, again, not to pick on Cory or accuse him of sexism, but to get us all to look at a familiar narrative in a new way.
First off, let's talk about the girl. She's never very human in these stories, is she? Copeland describes her as an "angel," a "light," and a "bastion of hope." No where does the story talk of the girl's sexual agency. She does not desire sex, because good girls do not do such things.
Secondly, let's talk about the boy. Many versions of the tale will use the tale as a scare tactic and paint all men out to be just like this boy. Cory doesn't appear to do that here. However, he does give us an obvious insight into what boys like this really are. He continues to touch the girl, even though she continuously pushes his hands away. He is "relentless and vile in his objections to her goodness," he "bombard[s] her wits with fallacies of unrequited love and lacking attention." Cory even mentions that the boy "had played this game before and he was good." This boy is manipulative and, I would even argue, mentally and sexually abusive. Not only that, but, like most abusers, he knows what he's doing. He knows how to get inside the girl's mind.
Let's talk about consent. The boy didn't have it. She pushed his hands away, she was clear about her boundaries. He wouldn't take no for an answer. "The good girl could take no more–"when Cory states this, it is not in the contexts of the girl's raging passions (she doesn't have those, remember?) but in the context of the boy's "vile and relentless" unwanted advances.
The girl does not enthusiastically fall into bed with this boy. She gives in to his constant, manipulative pressure. As my friend Dianna Anderson mentioned in a comment on Cory's blog, "a yes is only a yes when a no is possible." This boy obviously wouldn't take no for an answ
Let's talk about goodness. Several times in this story, Cory equates goodness with virginity. He talks of the boy objecting to her "goodness," and when the girl gives in to the boy, he talks of her as being stripped of "righteousness. He does mention later that one's goodness is not completely lost by the loss of virginity–that God can forgive and redeem. But the point of this tale has not changed throughout the years–the act of having a penis in one's vagina makes one impure, regardless of how the penis got there.
The girl did not have to desire sex in order to be made impure from it. She didn't have to consent. If it happened, she was guilty and in need of redemption, not from the brokenness and pain of having to suffer abuse, but from her loss of virginity.
Let's talk about Cory's response. One thing that stuck out to me, more than anything, was not even the story itself but peoples' quickness to defend it. Cory himself responded to criticism pointing out the boy's abusive tendencies.
His response was, "The story wasn't about the boy. It was about the girl and her struggles. That's the story I chose to tell. Respect that."
But the story IS about the boy. It has to be about the boy, because consent changes everything. If the boy didn't have consent (he didn't), the moral of the story (that the girl is no longer pure and needs redemption) is wrong.
Why are we so afraid to address the fact that consent did not exist in this story?
Is it because we're too afraid to write new stories? To tell our own stories? To ask questions about sexuality and think critically about the issues? To stop thinking in black and white dichotomies and start exploring gray areas?
What are we afraid of?
Finally, let's talk about stories. Is this old tale merely a work of fiction? To quote Dianna Anderson again, "We tell stories because it's how we process the world. We also learn lessons from stories…we are processing our life through metaphor and symbolism and through the characters presented within stories. Fictional or not, there is always something to be learned when a story is told."
This story is teaching women how to view themselves, how to feel about abuse and about consent. How to feel about sex and goodness. How to feel about God and about redemption and about men.
And what it is teaching is harmful.
Cory asks his readers to respect his retelling of this old tale. That's something I cannot do. In fact, I'd like to reclaim this story.
Because it's my story.
I was the girl who said no. I was the girl who pushed the boy's hands away again and again, until out of fear and manipulation, he managed to get an "okay, I guess" out of me. I was the girl who had to feel worthless because I had heard this story so many times growing up. I was the girl who new so little about consent because of this story that, even when I managed to finally say "No," and he did it anyway, I thought it was my fault.
I've heard this story from the preacher and the male blogger and the abstinence-only teacher and the father and the television show.
But, as my Twitter friend Ally Clendineng points out, it's not their story. They don't get to tell it however they want. They don't get to make it about "just the girl." They don't get to ignore the absence of consent. They don't get to make it about the girl's goodness or purity. They don't get to choose the moral of this story.
This story needs a new moral. One about what consent looks like and what healthy, consensual sex is. One about holding abusers accountable and about assuring victims that they do not need to feel at fault. One where goodness does not equal virginity. Where women are complex, sexual human beings who can have a sex drive (unless they are one of the 1 in 100 adults who are asexual) and still say "No," rather than glowing angels of light who would never even dream of wanting sex.
This is the story of all women who have been manipulated, coerced, and sexually abused. This is our story.
We get to decide what to take from it.