Here are some thoughts from my friend Travis Mamone (who blogs about cool stuff like Doctor Who and theology here!) on why popular arguments against the ordination of women fall flat and why sometimes it's best to just step away from "theological bullies." He included a picture of a fluffy animal to represent Rosebrough but I couldn't get it to load, so for now, here is my cat in a tiny top hat. Enjoy!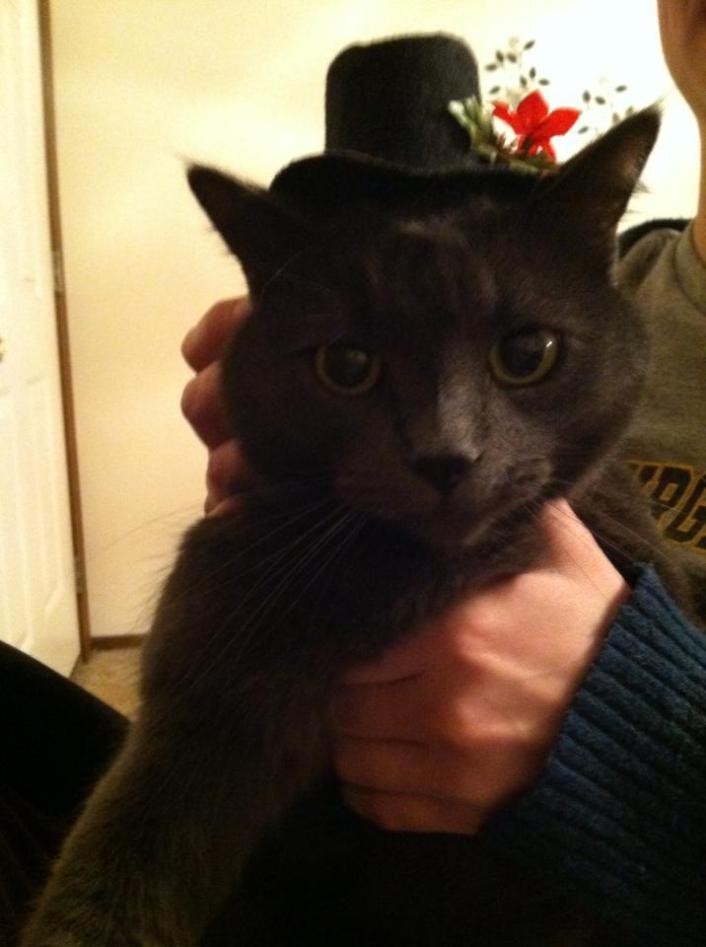 Like many of my fellow emergent Christians, I once tried to pal it up with fundamentalist discernment blogger Chris Rosebrough, aka Pirate Christian. Yes, he is anti-gay. Yes, he is against ordaining women. And yes, he has publicly trashed many in the emergent Christian movement. But because he actually talked to his opponents (unlike some other discernment bloggers), we thought that we could somehow forge a friendship with him that would transcend beyond oppositional theologies and therefore fulfill Jesus' command to love our enemies.
Boy, were we wrong!
We eventually realized that Rosebrough's words were harmful to female and LGBT members of the emerging church movement. Slowly we began to step away from him. To quote Gotye, now he's just somebody that we used to know.
Having said that, it has recently come to my attention that Rosebrough recently included the "Call Me Maybe" parody video "Ordain a Lady" on his Museum of Idolatry blog (which is just one of his many blogs, mind you). He then proceeded to quote 1 Timothy 2:11-14 and 1 Corinthians 14:33-35, which are two common clobber passages used to "prove" that ministry is a boy's only club. After sharing Romans 16:7 with Rosebrough on Twitter, he responded with, "Clear passages govern unclear passages. Plus, Junias was a man." He then sent me a link to a Christian apologetics website that supposedly "proves" the Junia of Romans 16:7 was a man. However, upon further investigation, this website also claims that humans and dinosaurs lived together. I pointed that out to Rosebrough, but our conversation went nowhere.
Chris Rosebrough is flat out wrong about women in ministry. And here is why.
First, despite what Rosebrough says, Junia was indeed a female apostle. In his e-book Junia is Not Alone, biblical scholar Scot McKnight writes that Junia was thought to be a woman until some mistranslations made her masculine. McKnight writes:
It happened, or can be illustrated in Greek by changing the accent in an originally unaccented text from Jun-I-an to JuniAn. This change is accent led to the male name JuniaS, the Anglicized form. (Loc. 138-40)
According to McKnight, there is "no evidence in ancient manuscripts that anyone understood Junia as a male, no evidence in translations she was a male, and there was no ancient evidence that Junias was a man's name" (Loc. 276-79). And Junia is not the only female in the Bible to have any sort of spiritual authority. McKnight writes about Phoebe the deacon found in Romans 16:1:
She was not a "deaconess," which in my youth referred to women who gathered the communion wafers and small plastic cups of cheap grace juice and washed them out so that men would have them for the next time our church had communion. No, Phoebe was a deacon, which meant she was a church leader. Paul calls her a "benefactor," and this probably—it is disputed—means she financially provided funds and wisdom for Paul's missionary trips. (Loc. 119-22)
If Rosebrough is reading this, no doubt he is saying right now, "But what about 1 Timothy 2?" For starters, it is debatable whether or not Paul actually wrote 1 Timothy. Second, according to scholar NT Wright, the entire passage must be read in context:
The key to the present passage, then, is to recognize that it is commanding that women, too, should be allowed to study and learn, and should not be restrained from doing so (verse 11). They are to be 'in full submission'; this is often taken to mean 'to the men', or 'to their husbands', but it is equally likely that it refers to their attitude, as learners, of submission to God or to the gospel – which of course would be true for men as well. Then the crucial verse 12 need not be read as 'I do not allow a woman to teach or hold authority over a man' – the translation which has caused so much difficulty in recent years. It can equally mean (and in context this makes much more sense): 'I don't mean to imply that I'm now setting up women as the new authority over men in the same way that previously men held authority over women.'
As you can see, there is room at the pulpit for women. We must not let theological bullies like Chris Rosebrough rob women the freedom and choice to answer God's call and serve God's church through ministry.